Review: INDECENT by Paula Vogel. Produced by Seattle Repertory Theatre. Directed by Sheila Daniels. Choreography by Tonya Lockyer. Musical Direction by Alexander Sovronsky. Scenic Design and Projections by L.B. Morse. Costume Design by Beth Goldenberg. Lighting Design by Robert J. Aguilar. Sound Design by Paul James Prendergast. With Bradford Farwell, Julie Briskman, Ron Orbach, Cheyenne Casebier, Nathaniel Tenenbaum, Andi Alhadeff, Antoine Yared, Alexander Sovronsky, Kate Olson, Jamie Maschler. Onstage at Seattle Repertory Theatre from September 20 through October 26, 2019.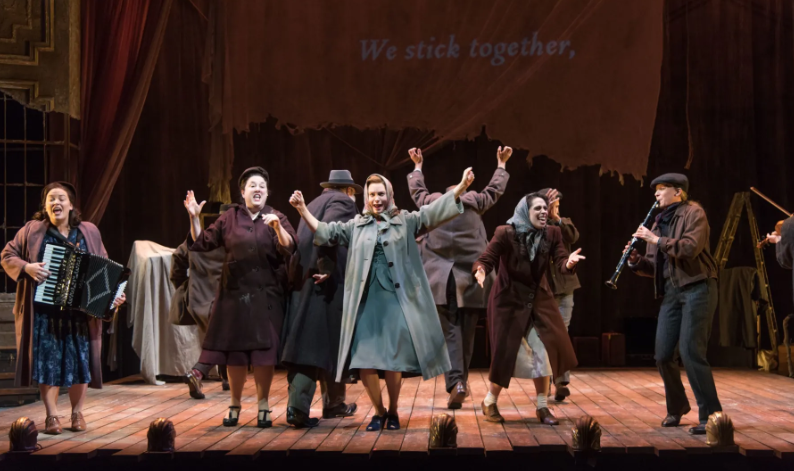 Rave reviews are actually rather hard to write.
How many ways can YOU think of to gush over a superbly written, creatively staged, beautifully designed and immaculately acted production of a truly terrific play by one of America's greatest playwrights?
It's hard, I tell you…HARD!
The play is Seattle Repertory Theatre's production of Paula Vogel's INDECENT, her 2015 play about not only the controversy surrounding the play God of Vengeance written by Sholem Asch, which was originally produced (in this country) on Broadway in 1923 and resulted in the arrest of the actors for obscenity, but it's actually the entire history of the play itself, from its writing to productions in Europe as well as what happened after the scandal of the 1923 premiere.
Vogel who created the play with its original director Rebecca Taichman who won a much deserved Tony Award for the original Broadway production, relates the story of "God of Vengeance" by framing it as a story being told by a group of actors who play all the roles over the roughly 60 years that the story covers. We have 3 pairs of actors consisting of "the Elders" playing the older roles; the "Middle" playing the middle aged ones, and of course the Ingenues, portraying the young ones. There's also three musicians and most importantly, Lemml, the Stage Manager who leads us from the beginning of the creation of "God of Vengeance" in 1906 up to….now? Or, at the very least the late 1950s when theater makers once again tried to stage the controversial material.
And, the material is uncompromisingly controversial…the play is about a Jewish brothel owner who lives over his brothel but wants to become respectable and marry off his only daughter to a fine young man in the community. He commissions an expensive Torah scroll and makes plans for a big wedding for his daughter but she falls in love with one of the prostitutes. The father is horrified and the play ends with him threatening to force not only his daughter but his wife into prostitution and then he throws the Torah across the stage in a fit of rage. Naturally, the combo platter of the Torah, prostitution, lesbianism and overall "frankness" was enough to send some people over the edge.
So, we have an interestingly complicated plot for a new play that comprises the actual plot of the original work plus overlaying layers about the creation, production and controversy surrounding that work. There's a lot to chew on with Indecent but Ms Vogel and Ms Taichman have created a deliciously complicated, moving work that manages to move audiences while also imparting a lot of information. It's a smart play and the only thing it might be faulted for is the fact it has multiple endings…there's a big beautiful moment towards the end that seems like the natural ending of the story but then it continues…to another big moment, then another. There might be an excess of endings. Maybe.
But, all the endings and the beginning and the chunk in the middle are all superbly directed here by veteran Seattle director Sheila Daniels who has beautifully staged this play with great care and artistry. Every…frame, to use a cinematic word, of this play is gorgeously composed. It's a piece of art.
And, much of that artistry can also be attributed to the superb design work from L.B. Morse's scenic and projection design, and Beth Goldenberg's very handsome costumes, and Robert J. Aguilar's evocative lighting and the sound design by Paul James Prendergast and the musical direction of Alexander Sovronsky who is also onstage as one of the three musicians who also silently act as part of the ensemble (and including Kate Olson and Jamie Maschler) and it's an example of a perfect company of artists working together.
Which goes the same for the also excellent cast headed by Bradford Farwell, superbly guiding us through the story as Lemml, the Stage Manager. Julie Briskman and Ron Orbach as the Elders; Cheyenne Casebier and Nathaniel Tenenbaum as the Middles; and Andi Alhadeff and Antoine Yared as the Ingenues are also giving outstanding performances here in a very tight ensemble of actors. And, it's especially great to see Ms Alhadeff in a big dramatic role, after seeing her shine in many supporting roles in musical theater, it's terrific to see her really sink her teeth in this material where she plays a variety of roles but many of them centered on the lesbian daughter in "God of Vengeance" and it's really some bravura work from this actress.
It's moving…it's powerfully dramatic….it's tearful….it's frequently very funny and sweetly charming. It's a beautiful work of theater art and the best thing on a Seattle Repertory stage in quite awhile and definitely the best piece of theater in Seattle this year. Indecent is a must see show.