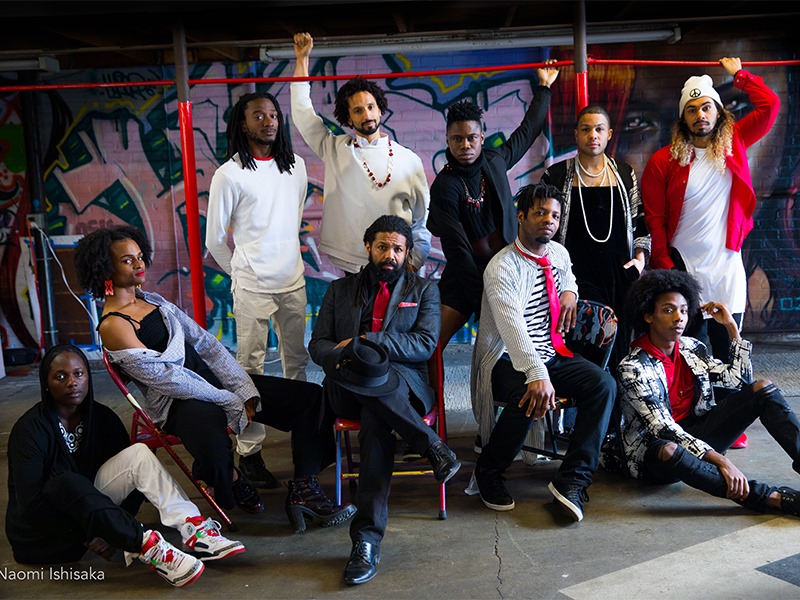 If you were smart/lucky you probably might have seen earlier productions of Seattle choreographer/dance artist Dani Tirrell's dance theater piece, BLACK BOIS, which had a lovely production in 2018 at On the Boards.
Now, Seattle Theatre Group in partnership with On the Boards and the Central District Forum for Arts and Ideas is presenting a new production of Black Bois at the Moore Theater in downtown Seattle, this Friday, February 14th. Tickets available HERE.
Via press release:
Enter a world where Black bodies tell their own stories. Where Black love and Black expression prevail. A world where Black stories heal, grow, and transform the lives they touch. Featuring live music, collaboration with a large cast of local artists/performers, and installations, this performance project celebrates Black bodies in space and an emotional engagement with movement. Black Bois is a love letter to Black bodies, minds, and spirits.
Artist Dani Tirrell writes, "This dance piece, created with original music by Benjamin Hunter and written word by J Mase III, is a ceremony to our ancestors, and a thanksgiving to our past, present, and future. It is a love letter to our bodies, our spirits, and our minds. This is the story of our fathers, brothers, lovers, and friends. A healing space, a space to process, a space to love, a space to create and be. We welcome you!"
There will also be pre-show discussions about the show starting at 5:30 pm.
Join us for pre-show discussions from 6:00 pm to 7:00 pm, exploring some of the themes of Black Bois!In the Moore Lounge, artist Inye Wokoma and writer Jonathan Cunningham will lead a discussion centered on how Black men have been at the center of many conversations around toxic masculinity, attacks on Black women, and the LGBTQIA+ community. Inye and Jonathan will discuss their views on masculinity and how it is changing as there is a movement to redefine what is masculine and what is Black.

At the same time, a youth pre-show discussion will take place in the theater house, led by artist Sadiqua Iman. The goal of this conversation is to bring the voices of those that will shape our future to the forefront and focus on opening space for youth to discuss what it means to be Black and Masculine. How are youth changing our ideas about Blackness and masculinity, self-defining and what does that mean for the structure of Blackness, femininity and masculinity; are a few of the topics that will be considered.
The box office will open at 5:30 pm for those who wish to attend either of these pre-show discussions.
AND, finally, you can read MORE about Dani Tirrell and this production over HERE. There will also be TWO related events happening the day after the show on Saturday, February 15th, both of them in the Central District.
There's the " A SPECIAL SUNDAY DINNER (on Saturday)" happening at Langston Hughes Performing Arts Institute at 1:30 pm (tix HERE!)
A SPECIAL SUNDAY DINNER (on Saturday) + The Living Room (hosted by Dani Tirrell, Randy Ford and J Mase III), with featured guests, the cast of BLACK BOIS, following their Feb 14th performance at The Moore Theatre, Seattle.

Each month we are bringing the community together for food and conversation, as we celebrate some of the most inspirational Black folx in Arts and Culture. We will enjoy food catered by some of Seattle's most sought after and talented Black chefs.
AND, on Saturday evening you can enjoy the "Black Bois" After Party happening from 5pm to 9pm and also at Langston Hughes….it's part of the admission price for the afternoon dinner event or just $10 at the door (cash or credit). More info:
Join the cast of Black Bois as we celebrate this groundbreaking work. We are ready to party with our community.

As we do with Black Bois come looking fly AF! And also come dressed to sweat and break it down.

With DJ Essex and DJ Onesies (Markeith Wiley).
Dessert Bar and Cash Bar

Cost: $10.00 at the door, with cash or card.
Or, attend the Special Sunday Dinner (On Sat): Black Bois Cast before hand, and admission to the After Party is included!
Tags: Black Bois, Langston Hughes Performing Arts Institute, Moore Theatre