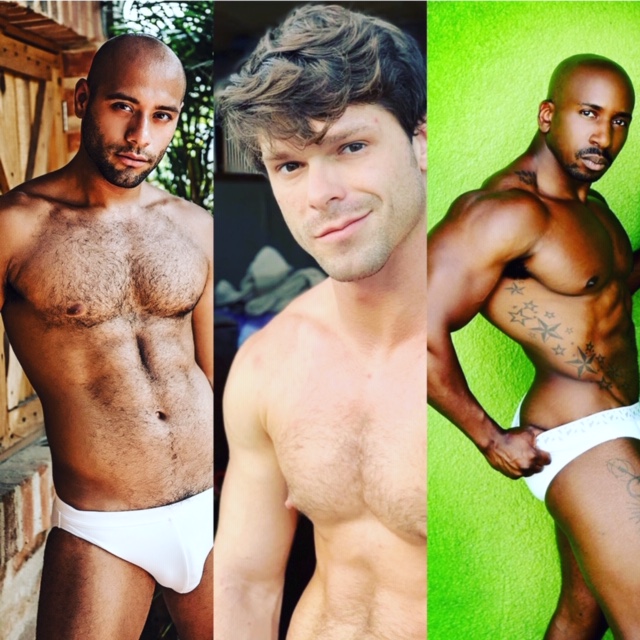 Here's something different…gay porn stars doing a video where they DON'T take their clothes off and get moist and sweaty with each other. Instead, they're in day drag, sitting in their homes, talking directly to the camera and telling us their "Coming Out Stories" in a new documentary called, "PRIDE: Pornstar Coming Out Stories".
It's actually quite great. Coming Out stories are important to share and even though many of us have similar stories, it's still fun to hear the experiences that other people have, both the happy ones and the not so happy ones where parents, family and friends have a hard time accepting who you are.
This was a project from the Naked Sword studio, one of my favorite producers of gay adult content; they frequently make an effort to put out different kinds of material, including non-sexual videos like this but also explicit films with plots, dialogue and artistic values…they're not some cheapass Dollar Store porno company making crappy movies at Motel 6.
Note: Video is actually pretty safe for work. Frank talk about sexuality but no adult images…obviously if you stray away from the page it's on, you're gonna find pulsating boners and such….not that there's anything wrong with that.
Go HERE! https://www.nakedsword.com/pride2020
Join us here at Weekends at NakedSword as we celebrate PRIDE with these intimate and authentic coming out stories from some of the biggest stars in gay porn. These relatable accounts will engage, inspire and tug at your heartstrings.
FEATURING: August Alexander, Leo Forte, Beaux Banks, Skyy Knox, Josh Moore, Dante Colle, Mickey Taylor, Cade Maddox, Adam Ramzi, Adrian Hart, Logan Stevens, Sharok, Boomer Banks, Colton Reece, Max Konnor, Riley Mitchel, Sean Zevran, Wade Wolfgar, Zario Travezz, Devin Franco, Drew Sebastian, Liam Riley, Nic Sahara and Steven Lee.
(Visited 84 times, 2 visits today)