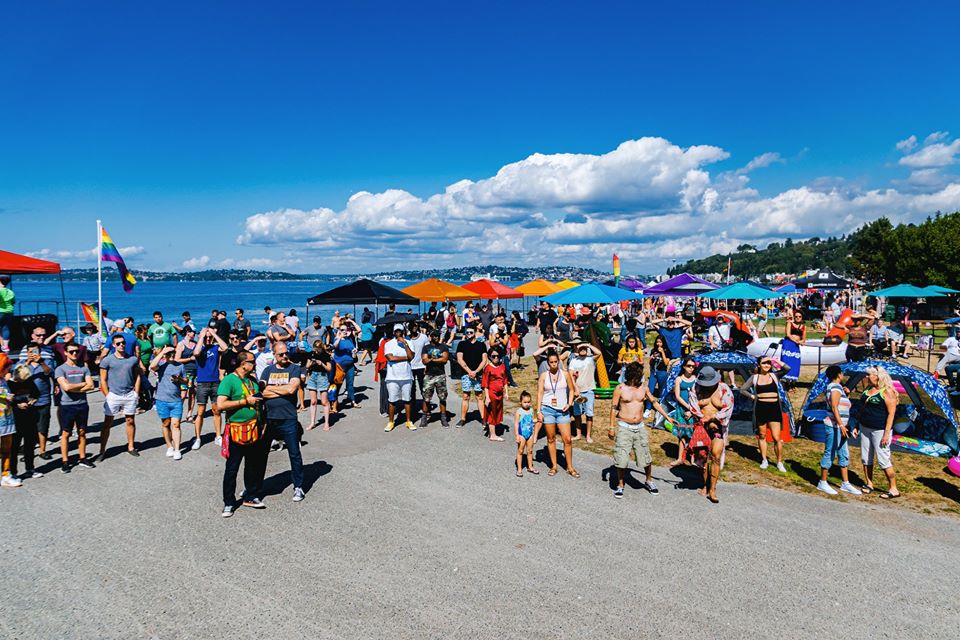 Alki Beach in West Seattle is Seattle's main "beach town" drag scene and they're carrying on with modified plans to celebrate LGBTQ Pride at the beach but using safe guidelines as a result of the ongoing Covid-19 pandemic.
Alki Beach Pride 2020 is happening next weekend, Saturday and Sunday, August 22 and 23 along Alki Beach in West Seattle. It's all free and open to the public but you MUST wear a mask and practice safe distancing guidelines to participate!
Also note that West Seattle is tricky to get to right now because of the closure of the West Seattle Bridge. If you're NOT from West Seattle and you want to participate, then allow extra time and patience to get there.
More info from the organizers:
Alki Beach Pride 2020 Event Update & Friendly Reminder: This is a Social Distancing Event
Yes, Alki Beach Park is open to the public to enjoy on YOUR OWN while following ALL Park social distancing guidelines. *Park closes at dusk daily.

SATURDAY DETAILS:
On Saturday, August 22 at 10:30 am we invite Pride celebrating motorists to meet us at Jack Block Park parking lot to decorate your rides in Pride gear and at 11am while following the lead vehicle we will "Roll OUT to Alki" waving our PRIDE flags, honking our horns in celebration as we pass through the neighborhoods on our way to the final destination of Alki Beach. The route will take approximately 35 minutes including slow passes by/around a few local West Seattle LGBTQ owned businesses. We will honk our horns and make extra celebration sounds to show our support for them.

At the end of the drive around, folks will find parking and then explore all that Alki Beach has to offer.
Since it's nice and early in the day, there should be ample parking. As you explore Alki there will be several "LOVE WINS" participating businesses that will offer "LOVE WINS" specials for the entire weekend for you to enjoy. LOOK FOR THE FLAGS and inquire at each location.
You will have several dining options for dine-in or take-out thanks to the awesome participating businesses. ***Each restaurant will require masks.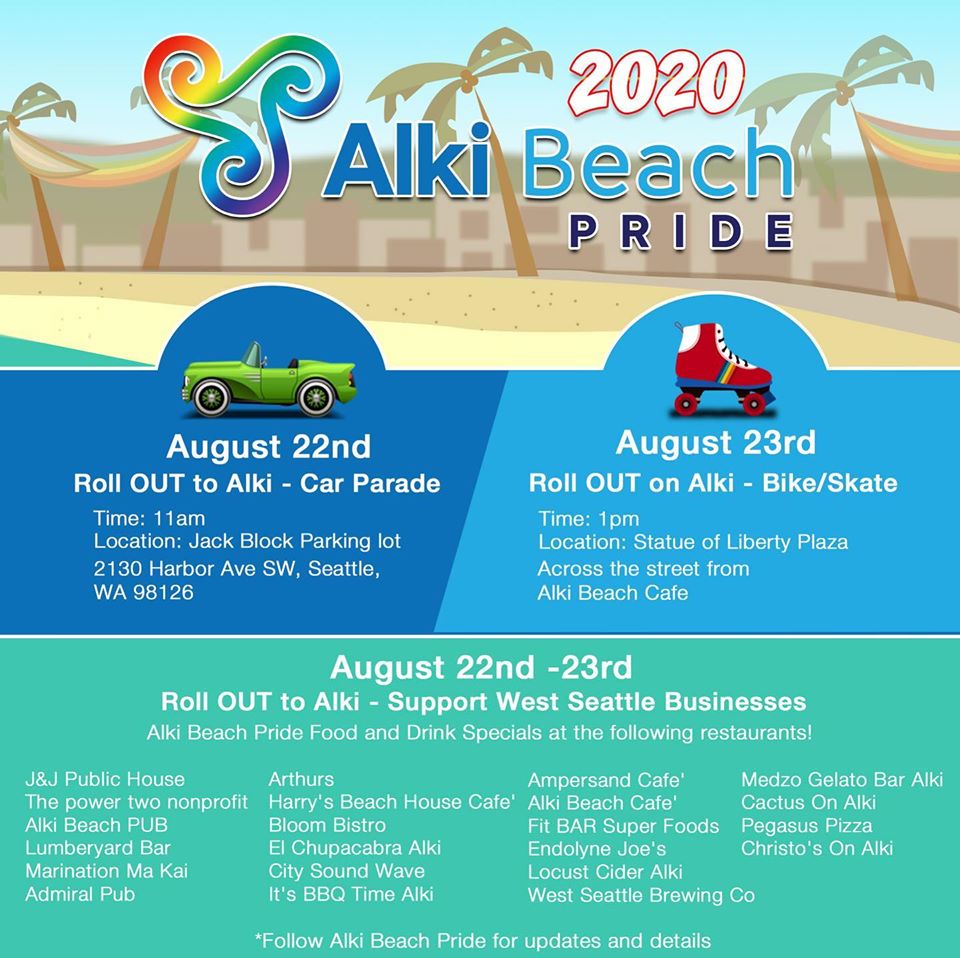 SUNDAY DETAILS:
On Sunday, August 23rd at 1pm we'll be enjoying some fresh outdoor air and exercise with folks with bicycles, skateboards, skates, one wheel boards, and scooters. We will meet up( masks on) for a casual "Roll OUT On Alki" using the Alki bike trail (while following social distancing guidelines. *** masks will be required at the meetup.
Where: meet at the Statue of Liberty Plaza
When: 1pm roll out approx 1:20
Destination: Marination Ma Kai ( water taxi dock)

* Route is approximately 15 min 2.2 miles
* Public restrooms along the way
*participation in parade and bike skate is free
(Visited 2 times, 1 visits today)