West Seattle Blog broke the news on Tuesday that the neighborhood's only LGBTQ bar, OutWest Bar, 5401 California Ave SW, will be closing after 8 years of being in business. The website, acting on a tip, confirmed the story with proprietor Bob Lunke that the bar will close by the end of the month. Lunke confided to them that rising costs and more competition fueled the closure, as well as information that the owners of the property have "other plans" for the future.
Lunke's comment on "more competition" might indicate that the growth of White Center's LGBTQ nightlife might have something to do with the bar closing. That neighborhood only a couple miles to the south of the bar has added two LGBTQ bars in the last two years: The Lumber Yard in 2018 and Swallow Bar just a few weeks ago with a third gay friendly venue from the owners of Capitol Hill's Unicorn Bar scheduled to open soon.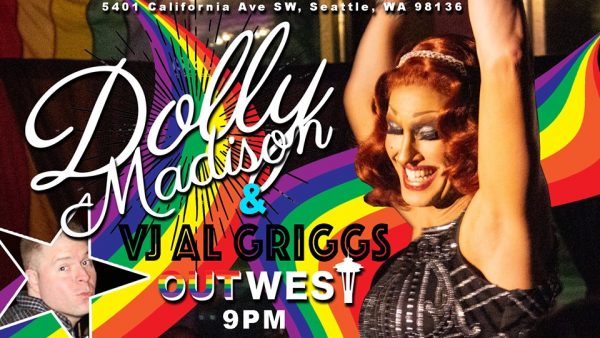 OutWest hasn't scheduled a definite closing date but Lunke did encourage people to show up for the final "Dolly & The DJ" party on Friday, July 19th. (Don't worry about Dolly Madison and DJ Al Griggs…they still do shows at The Lumber Yard and other venues).
The closing of OutWest is a sad loss for West Seattle's LGBTQ neighborhood. White Center isn't very far away but it's still nice to have a safe haven in your own part of the woods. And, OutWest also catered to the area's lesbian community with women specific events including a popular karaoke night. It's too bad that West Seattle won't have a specific home for the community but there's always potential for a new venue to open. After all, OutWest wasn't the area's only gay bar…Guppy's West Seattle Bar & Grill operated at 4752 California Ave SW for several years before it closed circa 2006 or so. There IS room for a specific LGBTQ space in this part of the city…in our opinion.
For fans of OutWest, stop by to wish them farewell in the next few weeks. It was a lovely small oasis in West Seattle. 
(Visited 4 times, 1 visits today)