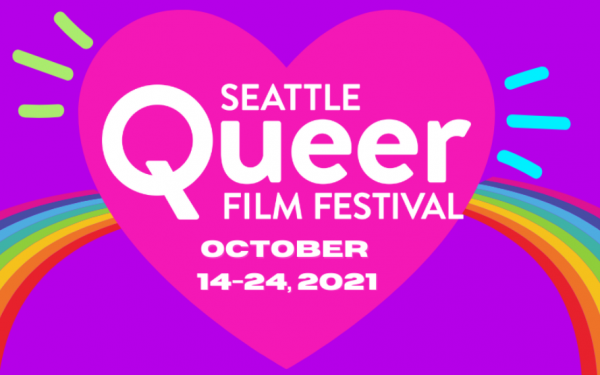 It's been a twisty turvy last couple of years for Three Dollar Bill Cinema, Seattle's LGBTQ film event non-profit as they have had to face budgeting woes, staff shake-ups and the Covid-19 pandemic but the beloved producers of the Seattle Queer Film Festival, Translations Film Festival and other film related events just keep truckin' on.
They made a big announcement today that they've found a new managing director to take the helm of the group: welcome Billy Ray Brewton!
The info:
After a wide-ranging search, we are pleased to announce Billy Ray Brewton as Three Dollar Bill Cinema's (TDBC's) new Managing Director. We have chosen Billy Ray Brewton to lead our film family as he brings a solid foundation in independent film, is grounded in the power of community engagement, and possesses a strength in film festival design and operations.
Billy Ray has created "Scripts Gone Wild" which gathers artists to read scripts to raise money for various charities like The Trevor Project, Black Lives Matter, The American Heart Association, Trans Lifeline, and many more. He has also created "Shindig – A Southern Celebration of Queer Cinema" in Chattanooga, TN. He brought his programming strength to screens across rooftops via "Rooftop Cinema Club" which aired films across Los Angeles, San Diego, Houston, New York, and London.
Billy Ray started May 17th and is joining Alanna Francis, Development & Community Outreach Manager and Maddy Szmidt, Programming & Operations Coordinator to round out our 2021 team. This trio works with the Three Dollar Bill Cinema Board, Contractors, Interns, and Volunteers to bring to communities across the United States and beyond – radically fun entertainment via queer film and programming throughout the year. This coming July, Billy Ray is relocating to the Emerald City from Los Angeles.
We are also thrilled to announce the return of Kathleen Mullen as the 2021 Seattle Queer Film Festival Director. Kathleen has been a part of Three Dollar Bill Cinema in various capacities since 2014. Most recently, she was our Interim Executive Director in 2020 and Festival Director for our 25th Anniversary SQFF. Kathleen's leadership helped the organization weather and adapted to the challenging impacts COVID-19 pandemic. While away from TDBC, Kathleen has been sharing her talents through higher education by teaching courses on Film Festival Management at Simon Fraser University & Lesley University. Kathleen is a filmmaker herself and has a long history as a film programmer.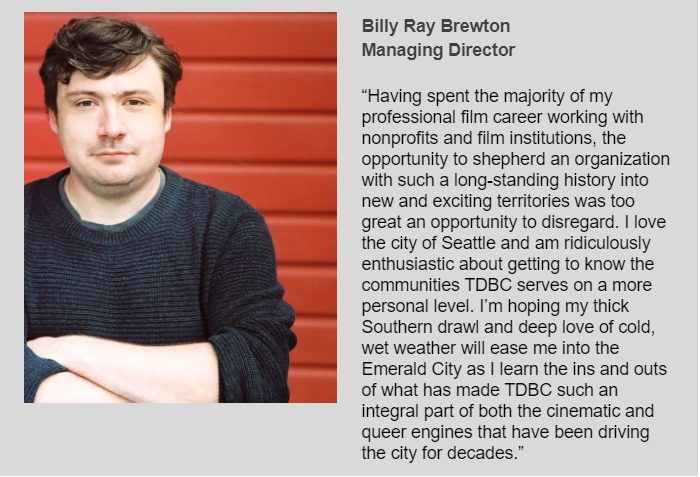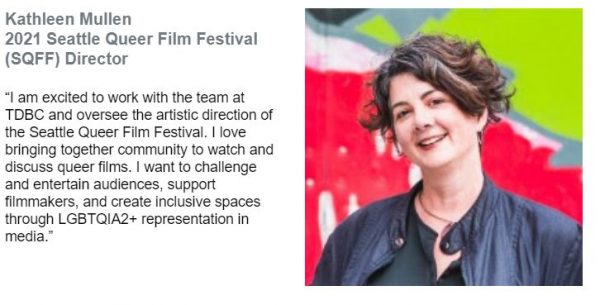 Three Dollar Bill Cinema is excited to have this team in place to continue to strengthen our organization's mission to foster deeper community engagement by showcasing queer film programming, educational experiences, and social dialogue.
(Visited 1 times, 1 visits today)