Well, last week I reported on my first outing in nearly two years to see a live, in-person theater production of a MUSICAL and a few days later I paid my first visit to go see a live, in-person production of a PLAY. It was the world premiere of local playwright Yussef El Guindi's rom-com-dram, HOTTER THAN EGYPT at ACT (or, officially, A Contemporary Theatre) which is a co-production with the Bay Area's Marin Theatre Company.
Sadly, the experience wasn't very hot…more, partly cloudy and bland with a 100% chance for cliché and stereotypes and formulaic storytelling.
It's basically a 4 hander about two couples, though to be fair there is a fifth actor who plays several servile roles. We're in Cairo and it's "now-ish" and we're introduced to two different opposite gendered couples, one American and older and the other Egyptian and younger.
The Americans are Paul and Jean and they're 50something and affluent. Paul is working on some sort of vague business deal in Egypt and on this trip, he's brought along wife Jean to celebrate their wedding anniversary. They're from Wisconsin and while Paul is very hearty and robust, Jean is more reserved. She's been a stay at home mom and now that the kids are out of the house, she might just be a bit…lost.
The Egyptians are Seif and Maha and they're around 30 or so and trying to establish careers. Maha wants to be a fashion designer but is supporting herself by acting as a liason/guide for foreigners in Egypt. She helped get Seif a job as a tour guide, a job he's not particularly fond of or suited for…he's opinionated and not very good at masking his disdain for his job or for the foolish tourists he has to deal with. The couple are engaged with Seif seemingly more committed to the relationship.
In the first scene we meet all four of them, meeting in the American's hotel room, but each subsequent scene focuses on different pairings of the four…Paul and Jean get the scenes immediately following, where we quickly learn their marriage is in trouble. He's bored with Jean and she's bored with their life and he's interested in someone else. Then, we get a pairing of Jean with Seif as he leads her on a tour of Cairo, then Seif couples up with Maha, and then back to Jean with Paul to wrap things up. Annoyingly, it's all done without an intermission, though there are logical points within the play to have a break. At an hour and 45 minutes, it was a bit tiresome to be sitting for such a long period of time when it wasn't at all necessary.
(Who sits for an hour and 45 minutes without getting up/going to the bathroom/getting a drink or food? Answer: no one but people stuck at shows where the "artistic" decision has been made to not have a break after an hour or an hour and 20 minutes or so…)
Hotter Than Egypt isn't "bad" in the sense that it's poorly plotted with terrible dialogue…Yussef El Guindi knows how to construct a plot and he knows his way around writing amusing conversations. The show has pace…it briskly moves along from point A to point B and so on. The problem with Hotter Than Egypt is the fact it's unoriginal and bland. At heart, it's a Lifetime Television For Women movie from 1992 though to be honest, this plot dates back decades. Disheartened white lady unhappy with her marriage/life goes to hot, sultry land populated by people browner in skin and discovers new reasons for life/love amidst the beauty of ancient lands and cultures. Cue final shot/scene of noble white lady facing her destiny as she gazes up at the sun/the moon/the stars as the music swells. Curtain.
The only difference here is, unlike old school "White Lady Learns Lessons in Sultry Country" stories, El Guindi has given the non-white couple a BIT more to do….in the olden days, any character of browner skin was either a servant, a villain, and either ignored or dead by the end of the story. Seif, the male character has been given a bit of inner life…he emerges as an interesting and compelling character. Sadly, Maha, the female, isn't given much to do…she's just a necessary cog in the plot and we really learn nothing about her. Or care.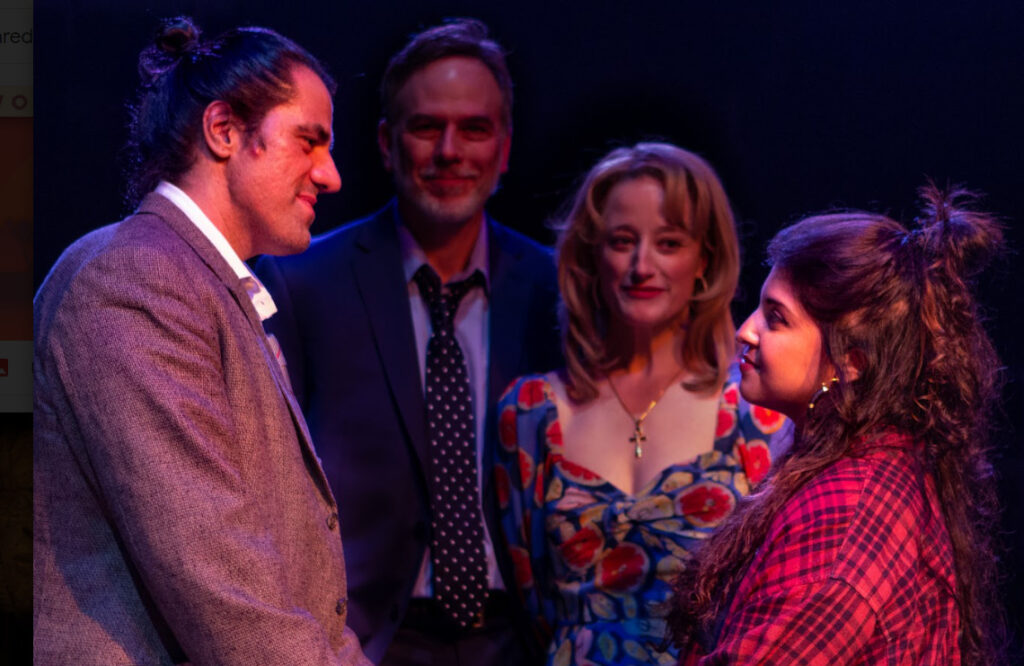 And, both couples are rather lazy stereotypes…the Americans are mostly stupid and self-centered and clueless…Paul is a pompous bore and apparently Jean is so dimwitted she doesn't know what an ankh is…which seems improbable from a fiftysomething woman of privilige. The Egyptian couple spend their time complaining about the awfulness of their society and mostly just shrugging "eh…what can you do?" when confronted with that supposed awfulness. If you were expecting this play to deal with any societal issues about modern Egypt, you're gonna be disappointed.
Now, as for this specific production, it's all well done for the most part. Director John Langs keeps things moving along at an appropriate pace (unless you start getting bored with the predictable plot). The actors are fine with Jen Taylor as the "Affluent White Lady Seeking Answers in the Tropics" especially good and Wasim No'mani very appealing as the likeable Seif. Paul Morgan Stetler amuses as the stereotypical Ugly American/Wisconsin branch and Naseem Etemad was fine as Maha though plagued with a sadly underwritten character to portray.
I didn't care much for this play but I don't really care for Lifetime TV movies or stories about affluent/upper middle class people and their woes. To be honest, I don't want to know/hear about upper middle class people…they're the least interesting social group on the planet. Working class people and poor people and even middle/middle class people and their woes are usually pretty interesting and the very rich/powerful are always intriguing in their awfulness but the "well off" are just tiresome…what woes do they have other than being dissatisfied that they're not super rich?
"Boo hoo…we can't afford a 2nd vacation home."
"Boo hoo…I'm so dissatisfied with my life. And, my children. That I raised. And, apparently failed at. Boo hoo."
Meh.
If you DO like those kinds of stories, then you'll probably enjoy this "well made" play…if you're still nervous about seeing shows in person, maybe Hollywood will buy this as a vehicle for Julia Roberts!!!
---
Review: HOTTER THAN EGYPT by Yussef El Guindi. Produced by ACT-A Contemporary Theatre in association with Marin Theatre Company. Directed by John Langs. Dramaturgy by Nakissa Etemad. Set Design by Carey Wong. Costume Design by Melanie Burgess. Lighting Design by Robert J. Aguilar. Sound Design by Johanna Melamed. With Paul Morgan Stetler, Wasim No'mani, Naseem Etemad, Jen Taylor, Ahmad Kamal. Onstage at ACT January 28 through February 20, 2022. Tickets: https://acttheatre.org/2022-mainstage-season/hotter-than-egypt/
(Visited 63 times, 1 visits today)