Preventing Anal Cancer
November 27, 2018 @ 5:30 pm

-

7:00 pm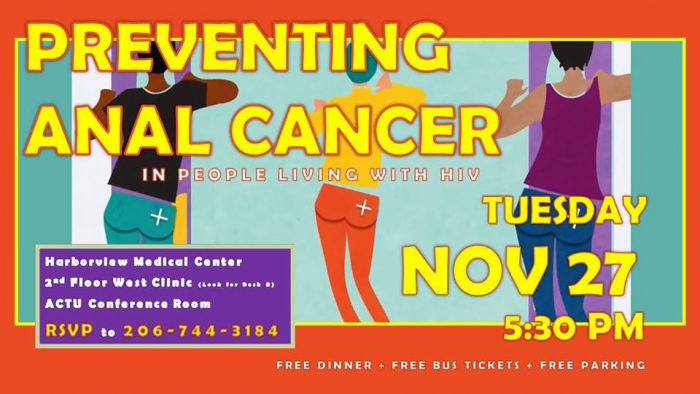 Living with HIV has gotten a lot easier, thanks in no small part to the clinical research that has improved the lives and well-being of people living with HIV everywhere.
Despite this, anal cancer rates are rising among people living with HIV.
For our last community meeting of 2018, we will be talking about preventing anal cancer with two local providers whose work is attempting to address this growing concern: Drs. David Aboulafia and Jeff Schouten.
Our meeting will be held on this coming Tuesday, November 27 at 5:30 PM in the ACTU Large Conference Room on the 2nd Floor of the West Clinic at Harborview.
As always, we will provide dinner for you.
We can also cover your parking at the HMC garage. Just bring your parking ticket with you and we'll give you a sticker or a pass that covers your time at the meeting.
We also have bus tickets available to see you safely home.
You can easily RSVP for next week's meeting by replying here on this event page (your RSVP help us gauge food and seating needs).
While deaths from AIDS are way down, anal cancer among people living with HIV is on the rise.
We think that anal cancer can be prevented by routine screening and removal of precancerous cells.
This strategy has reduced cervical cancer rates by 80%.
But to get the insurance companies to cover routine anal cancer screening and preventative treatment, we need to prove that this strategy actually prevents cancer.
The best way to show that is to recruit people with High Grade Squamous Intraepithelial Lesions (or HSIL for short) into a study and assign them randomly to a treatment arm or a monitoring arm.
We then follow everyone for five years to compare the rates of cancer in both study arms.
At the end of the study we'll know whether screening and treatment of HSIL are effective strategies in preventing anal cancer.
We'll also learn a lot about HPV and other risk factors and why these sometimes cause cancer.
Luckily, we have this study here in Seattle.
It's called The ANCHOR Study. ANCHOR stands for Anal Cancer HSIL Outcomes Research.
The goal of the ANCHOR study is to find the best way to prevent anal cancer among HIV positive men and women.
And to do this, they need HIV+ volunteers of all genders who are 35+ to take part in this paid study.
We'll be discussing anal cancer and this important prevention study on Tuesday night.
Hope to see you all this coming Tuesday!
Related Events