Madame Ga is on the cover of Vogue and has an editorial layout.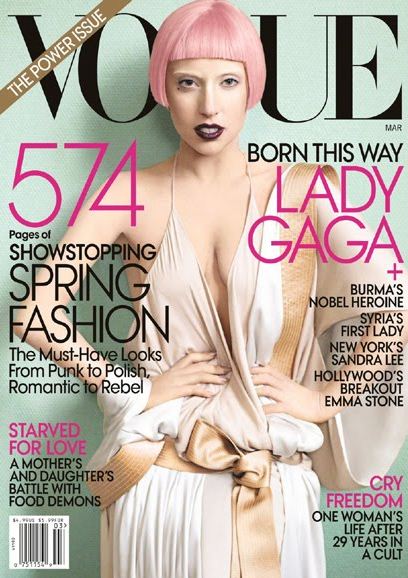 The Ga in Alexander McQueen:
Obviously, she is standing on SOMETHING since she is tiny and the dress is a sample size meant for a 5'10" model. The Ga is like, 5′ nothin'.
Lovely in blue from Haider Ackermann. But, the Ga would get yelled at if she was on "Top Model" because she only has ONE look for the camera…and, she is surprisingly stiff. It could be, these clothes are just pinned on her and she can't move much. Like I said before, she's tiny and these clothes are meant for tall girls.
She's on 60 Minutes Sunday night interviewed by our Daddy Coop. Here, they visit her old apartment in NYC. She's on a slightly elevated stoop and undoubtedly wearing big girl heeled boots, but notice the height difference with Andy…He claims 5'10″…not sure I'm buying it.
Oh, here's a classic Gaga quote from the interview. Gaga on celebrity:
We want to see people who have it all lose it all…They want to see me fail…They want to see me fall on stage…They want to see me vomiting out of a night club. Everybody wants to see the decay of the superstar.
Sad, but true…
(Visited 1 times, 1 visits today)