Yes, I'm in lust with a cartoon character…a virile, amoral, dark haired, blue eyed, hard muscled cartoon spy. Who's frequently naked and sometimes pretending to be gay.
Have you watched the awesome animated series Archer on FX? It might just be the best television show ever…yes, I'm seriously in love with it. Archer is set in a bizarre world with 1960's clothes and home decor, 1970's cars and politics, but they have the Internet, modern technology and contemporary pop culture references. The show is about the activities of ace spy Sterling Archer and the global spy agency he works for, ISIS which is run by his grasping, soul crushing mother Malory. Not only does the show LOOK divine, it also features some of the sharpest, raunchiest writing on television and regularly features rather explicit sex scenes, nudity, extensive and gory violence and lots of politically incorrect behavour.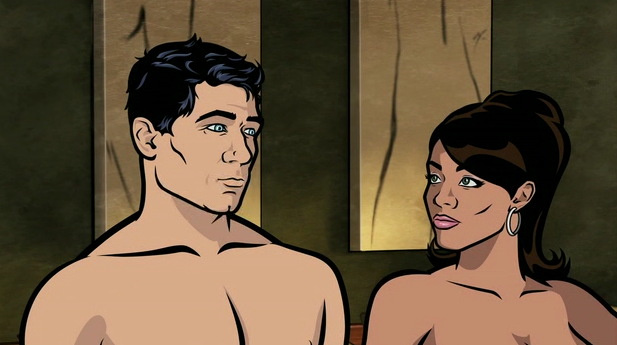 It also has a divine voice cast led by H. Jon Benjamin as the suave but asshole-y main character; the always awesome Jessica Walter has his monster mom (she's basically just a meaner version of her Lucille Bluth from the classic series Arrested Development); Aisha Tyler as Archer's ex/fellow ISIS agent Lana Kane, not to mention Chris Parnell, Judy Greer and Amber Nash. A very funny cast right at home with the filthy humor.
But, I really love this show for Archer…he's a jerk, but he's a hot jerk and blessed with H. Jon Benjamin's zexy, zexy, gravelly voice. Which is also confusing because Mr. Benjamin also does the voice for the main character Bob, in Fox's Bob's Burgers (another brilliant animated show) and the characters couldn't be any more different. One's a suave, studly spy and the other is a lumpy, frumpy fry cook/dad/husband living above his burger joint but Mr. Benjamin does a fantastic job with both roles. (The actor's pretty cute, too, though he looks NOTHING like Archer OR Bob.)
Now, if only I could find some way to either animate myself, or de-animate Archer so we could make hours of the sweet, sweet love…I haven't lusted after a cartoon character this much since Prince Eric in Disney's The Little Mermaid.
A very zexy man on man nekkid butt clinch shot after the JUMP…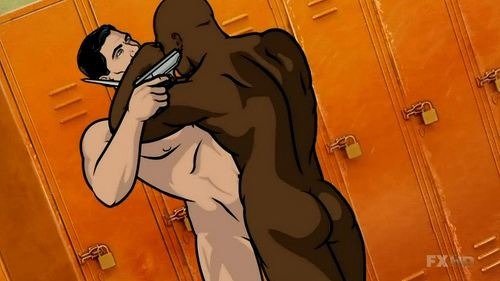 Tags: Archer, Bob's Burger, FX, H. Jon Benjamin