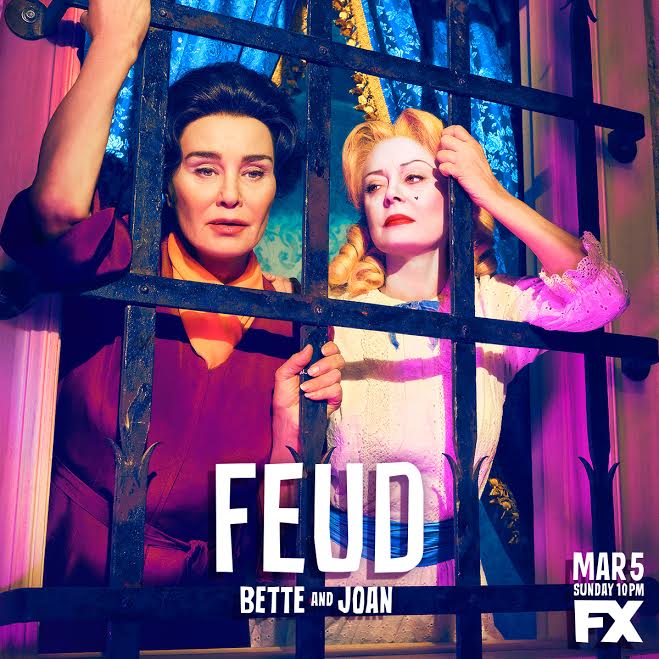 We're VERY excited about FEUD the delicious biopic about the filming of the camp classic film "Whatever Happened to Baby Jane?" and the legendary onset and off rivalry/feud between the film's two iconic Golden Age of Hollywood stars Joan Crawford and Bette Davis. TV producer/director Ryan Murphy is bringing this rivalry to the small screen with FEUD which stars Jessica Lange as Crawford and Susan Sarandon as Bette Davis. It looks like a HOOT and it premieres on FX on Sunday, March 5th.
BUT, lucky Seattlites can check out a screening and party at Purr Cocktail Lounge next Thursday, February 23rd at 8pm. You just need to go grab yourself a pass to check it out!!!
Here's the skinny:
Get excited to see one of the biggest feuds of all time! There will be an advance screening of Ryan Murphy and FX's new show FEUD: Bette and Joan on Thursday, February 23rd at Purr Cocktail Lounge at 8pm. Go to www.gofobo.com/FEUDSEA23 to get a pass. There will also be drink specials and appetizers available.

Location:

Purr Cocktail Lounge
1518 11th Ave
Seattle, Washington 98122

Date and Time:
February 23, 2017
Thursday 8:00pm
(Have your pass ready to show at the door)

Release Date:

Rating:

Synopsis:

FEUD: Bette and Joan, the first installment of the new FX anthology series from Ryan Murphy, tells the story of the legendary rivalry between Joan Crawford (Jessica Lange) and Bette Davis (Susan Sarandon) during their collaboration on the Academy Award®-nominated thriller What Ever Happened to Baby Jane? and well after the cameras stopped rolling. The series explores how the two women endured ageism, sexism, and misogyny while struggling to hang on to success and fame in the twilight of their careers.

In addition to Academy Award winners Lange and Sarandon, the cast includes Alfred Molina as the film's director Robert Aldrich, Stanley Tucci as studio titan Jack Warner, Judy Davis as gossip columnist Hedda Hopper, Jackie Hoffman as Crawford's housekeeper Mamacita, and Alison Wright as Aldrich's assistant Pauline. Notable guest stars include Dominic Burgess as Crawford and Davis' co-star Victor Buono, Catherine Zeta-Jones as film star Olivia de Havilland, Sarah Paulson as Geraldine Page, Kathy Bates as Joan Blondell and Kiernan Shipka as B.D., Bette Davis' daughter. Ryan Murphy serves as Executive Producer along with Executive Producers Dede Gardner of Brad Pitt's Plan B Entertainment, Tim Minear and Alexis Martin Woodall. The series is produced by Fox 21 Television Studios.
Tags: Bette Davis, Feud, FX, Jessica Lange, Joan Crawford, Purr, ryan murphy, Screening Party, Susan Sarandon