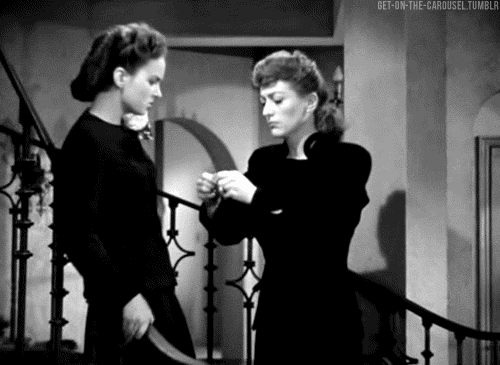 SIFF has a terrific way to escape the heat and enter a bygone era of glamour and mystery with their summer film series DRESSED TO THE NINES: STYLE IN CINEMA happening Saturdays at 1 pm from July 20th to August 24th at The Uptown Cinema. Each week, a classic film from the Golden Age of Hollywood from the 1930s to the mid 1950s will be screened that features exceptional costume design by the top designers of the era including Adrian and Edith Head. 
The series kicked off last week with the ultimate Hollywood musical, MGM's 1952 classic Singin' in the Rain starring Gene Kelly and Debbie Reynolds with beautiful 1920s era costumes by Walter Plunkett, best known for his Oscar winning work on Gone With The Wind.
This week, on Saturday, July 27th, the series will go back a few years to 1945 and the black and white noir classic that won Joan Crawford her only Oscar: Mildred Pierce. It's the tawdry rags to riches tale based on the novel by James M. Cain about the much put upon Mildred who copes with a boring lower middle class/suburban lifestyle, a failed marriage and a bad case of obsessive mother love for her monstrously bratty daughter Veda by becoming an upwardly mobile chicken shack restaurant mogul. She marries a broke cad with a good family name and gets to trade in her plain gingham dresses and waitress uniforms for glammed up furs and suits designed by the film's costume designer Milo Anderson…of course, money and cute outfits can't solve poor Mildred's woes which include….MURDER!!!
I'm not entirely sure why Mildred Pierce is in this series, if I'm being honest…it's not really a big costume movie other than for the size of the shoulder pads in Crawford's dresses and blouses, but it IS a terrific example of the 1940s "women's film" and film noir genres meeting up in a deliciously frothy and almost over the top mix. Veteran director Michael Curtiz keeps Crawford in check and she gives a powerful performance here, in her "suffering lady" mode as opposed to other acting option of the "tough dame". She's well matched with a swell supporting cast that includes the deliciously nice Ann Blyth as the perfectly vile daughter Veda as well as the comedic sass and wit of Eve Arden as Mildred's business associate and pal, Ida. And, though it's really a showcase for the women, both Jack Carson as a shady pal of Mildred's and Zachary Scott as Monte Beragon, her slimy but debonair second husband are also major assets.
If you haven't seen the original Mildred Pierce, you really should check it out. If you've seen the HBO remake from a few years back that starred Kate Winslet but not the original, you should definitely check out the Crawford film to see the superior version. The HBO film was, for reasons unknown, stretched out to a FIVE PART miniseries despite the fact the original novel wasn't particularly long. And, even though it had a terrific cast (which included Evan Rachel Wood as a truly nasty Veda) and the huge budget spent on period costumes and sets, the HBO film was, in my opinion, a huge bore. The 1945 film isn't perfect; the plot doesn't warrant too much scrutiny but it briskly told the story with the added drama of the murder plot (which wasn't actually part of the original novel or the HBO remake) and has an iconic performance from Crawford.
You can grab tickets to Mildred Pierce HERE and there's a bit more info about the series below…note that the deliciously fun 1939 comedy classic, The Women, will be screened on August 17th. It features an all female cast that includes Joan Crawford in her "tough gal/bitch" mode instead of "Long Suffering Victim" plus the comedic delights of Rosalind Russell and Mary Boland. Oh, and crazy costumes from the one and only, Adrian, the King of Hollywood Costume Design at MGM.
Get glitzed and glammed and join us on Saturdays at 1 (7/20-8/24) to celebrate the art of film costuming in our new series, Dressed to the Nines: Style in Cinema! View six landmark films of the classic Hollywood era–Singin' in the Rain, Mildred Pierce, 42nd Street, Gilda, the Women, and Rear Window–through the prism of extraordinary costume design.

All films will be hosted by Rosemarie and Vince Keenan, who under the pen name Renee Patrick write the Agatha, Anthony, and Macavity Award-nominated mystery novels featuring costume designer Edith Head. More info and tickets at bit.ly/dressedtothe9s-fb
(Visited 5 times, 1 visits today)