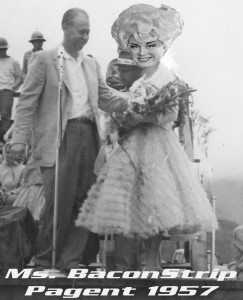 Pride Month is breathing down our necks and I am thrilled to read the different articles on the varied celebrations of pride throughout the country. I think it's all about feeling great or being proud in our own skin. That is why, I am thrilled about the Ms Bacon Strip Pageant coming up on Saturday, June 4 at Re-bar. I've wanted to do something like this for years but people seemed put off by these contests. Now I don't want this to just be a contest to see who is really the best of the group; I'm hoping ours will be different. I love all the contestants equally. I think one of the things that really makes this show an amazing success is the different people and performers that come out every month. Each one brings something so different and wonderful to the table. I want this to truly be a pageant of performance and fun. I believe Ms Bacon Strip will be the showcase for the "Other queens".
Since I moved to Seattle I was so excited to meet a whole new brand of performers. I met some wonderful, crazy performers who I still admire and love: Jackie Hell, Ursula Android, Devastasia, Annie Freeze, Sharon Needles, Izabella Pacaweenie and Maxine Delacunt. The kind of drag that goes out for the theatrical experience not just to look the part and lip sync to a top hit of the minute. So this is my vision, I want the Ms Bacon Strip pageant  to say, "Hey, RuPaul's Drag Race is just a small segment of performance in drag. Come watch and see what we can do!" All the performers have won in my book already for just stepping up to try it out.
The other angle I am excited to see is the campiness of pageants. From Tots with Tiaras to Drop Dead Gorgeous…There is no shortage of material to go from. You just can't avoid it. I hope we bring some real fun over the top drama that will be entertaining and crazy.  The judges will be keeping score for real and I know that they will be fair. I'm very excited to see what the outcome is. I hope that you will be interested also!
Also, I want to thank the Seattle Gay Scene for partnering with Bacon Strip.  They have been supportive of Bacon Strip and my other shows over the years.  I would also like to thank all the other media for being supportive as well.
Ms Bacon Strip Pageant
June 4, 10:00pm
www.stayformore.com
Hope to see you soon,
Much love,
Sylv
Tags: Bacon Strip Seattle, Ms Bacon Strip Pageant, Rebar, Sylvia O'Stayformore