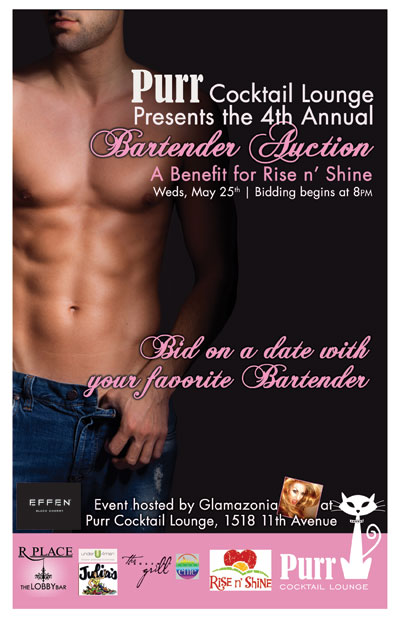 In the mood for a hunky bartender, especially one of the hottie-patotties at Purr? Well, today is your lucky day because it's the 4th Annual Bartender Auction, a benefit for Rise n' Shine, the group that helps kids living with HIV/AIDS. The bidding starts at 8pm tonight, (to win a "date" with a bartender…this isn't 1852! You don't get to KEEP them!) and the philanthropic frivolity is hosted by the delightful Glamazonia Jolie-Pitt. It's a must do event for folks who like to help out for a good cause AND for folks who haven't had a date in ages. And, who knows….maybe LOVE will bloom on your "date"!
Less philanthropic but also fun, is the monthly BLOODLUST party at Pony. The invite asks us to "shake your bones to Bat Cave – Dark Wave – Goth – Industrial – Deth Disko with Resident DJs Gin + Tonic and with Special Guest DJ DOWNbelow. Oh, yeah…they have Happy Hour Prices All Night Long….you need a good stiff drink to appreciate Deth Disko. Also, a spelling dictionary, but we're Old Skool.
If Gothic Black is not your ideal color then maybe try some "Pink" at Central Cinema's Pajama Party screening of the John Hughes classic, Pretty in Pink with the Queen of Teen Eighties Films, Molly Ringwald. And, apparently you MUST wear pink to attend! Here's the skinny:
High School sucks. Dating boys sucks. But as long as you look good it doesn't matter. Tonight we are tossing the pinkest of Pajama Parties with a special screening of PRETTY IN PINK.
It doesn't matter if you are Team Duckie or Team Blane or even Team Steff, you will fall in love all over again with this John Hughes classic.

For this Pajama Party you MUST be wearing pink to enter. Unless you are looking super cute! Besides comfy PJs, feel feel to dust off that bridesmaid dress that you thought you would never wear again or that old prom dress you have been hanging onto in case there is a PRETTY IN PINK screening.

Call your parents and tell them that you had to work late at the record store because of inventory and sneak over to our Pajama Party! You aren't going to want to miss one single moment! Everyone will be talking about it at school tomorrow! THINK PINK!

Tickets are $8 bucks in advance and $10 at the door. Grab 'em while you can.
http://www.readyticket.net/webticket/htmlshowtimes/77182/.%5CShowTimes40688.html
The pinky fun starts at 7pm at the awesome Central Cinema, 1411 21st avenue (21st & Union). If Mr. Sagat's film isn't your cup of cinematic tea, then try this on for size.
(Visited 1 times, 1 visits today)