Faces both local and non; famous and not so famous; and at least one hero's face are among the choices by Seattle Out & Proud chosen as Grand Marshals for Seattle Pride Parade 2011. They vary greatly in ages, genders, degrees of fame and physical appearances, but they all share a common bond of serving the LGBTQ community by examples and deeds. The famous names on this year's Pride roster are Daniel Hernandez, the student and aide who rushed to Representative Gabrielle Giffords' side following her shooting in January of this year, and noted author and LGBTQ rights advocate Armistead Maupin.
Daniel Hernandez
AIDE TO US REP. GABRIELLE GIFFORDS (AZ)
Daniel Hernandez is the University of Arizona student credited for being the first to rush to the assistance of Representative Gabrielle Giffords after she was shot in January 2011 in Tucson, Arizona. His fearless and decisive actions likely saved her life. At 20, Daniel can be considered a political veteran: he volunteered for Hillary Clinton's presidential campaign, and then for Congresswoman Giffords' re-election in 2008.

Daniel received a standing innovation at the memorial service for the Tucson shooting victims, also attended by President Obama. He has objected to being labeled as a hero, explaining that while he may have done something brave, dedicated public servants like Rep. Giffords are the ones who should be championed.

Time magazine wrote that Daniel, who is gay and Hispanic, has become a particular hero for those groups. "I think that what Daniel did has nothing to do with his sexuality, but being that he is openly gay, I think that it's really amazing and incredible to have someone within the gay community, particularly a young person, who can be seen as doing something heroic," said a colleague who serves with Hernandez on Tucson's Lesbian, Gay, Bisexual and Transgender Commission. In a time when both of those minorities have been at the center of heated, emotional debates about immigration and bullying, he has served as a model of reason and strength.
Armistead Maupin
AUTHOR AND VIETNAM VETERAN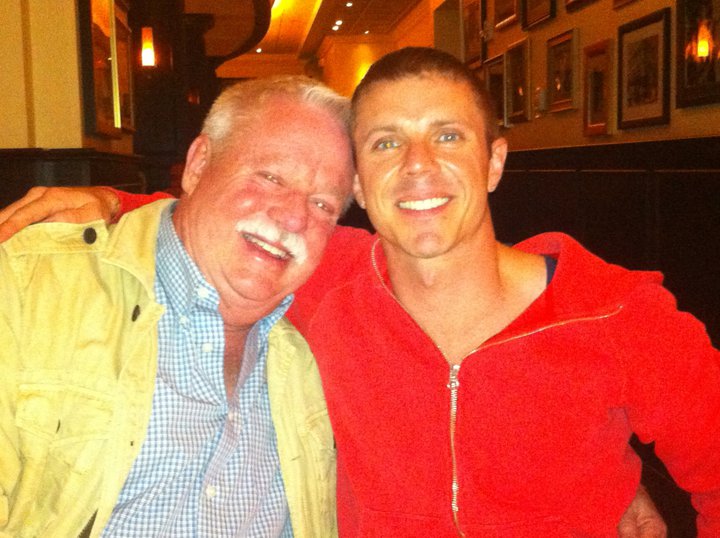 Armistead Maupin and Jake Shears
Armistead Maupin is a renowned American author, best known for his Tales of the City series, and a Vietnam veteran of the United States Navy.

A graduate of the University of North Carolina, Armistead served as a naval officer in the Mediterranean and with the River Patrol Force in Vietnam. He worked as a reporter, and in 1976 he launched his groundbreaking Tales of the City series in the San Francisco Chronicle. Armistead is the author of ten novels, including the six original volumes of Tales of the City, Maybe the Moon, The Night Listener and, most recently his return to the Tales series with Michael Tolliver Lives and Mary Ann in Autumn. Three miniseries starring Olympia Dukakis and Laura Linney were created from the first three Tales novels and The Night Listener became a feature film starring Robin Williams and Toni Collette. The musical version of the first two Tales books just premiered at A.C.T. in San Francisco with music and lyrics by Jake Shears and John Garden from Scissor Sisters and a book by Avenue Q's Jeff Whitty.

Armistead lives in San Francisco with his husband, Christopher Turner, an Internet entrepreneur, website producer, and photographer. They met in 2002 and married in Vancouver, BC, in 2007. Armistead Maupin is a Pride Parade marshal courtesy of Seattle PrideFest.
Several local leaders are also being honored for their work and dedication to the LGBTQ community: Founding Father of Seattle LGBTQ Journalism, George Bakan; Seattle Out & Proud President Emeritus Eric Gauthier, who resurrected the organization after years of fiscal distress and fraught relations with many members of the community; Egan Orion, the head of Seattle PrideFest and One Degree Events, as well as the organizer behind "Flash Mob" events and Out for Sustainability; and the Seattle Storm's Ownership Group consisting of three outstanding Seattle businesswomen and civic leaders: Dawn Trudeau, Lisa Brummel and Ginny Gilder for heading the only Seattle professional sports team with a national title and for their "active role in promoting literacy, health and fitness, support for women and girls, and youth basketball in local communities."
In addition, this year's community organization community sponsor is:
GLSEN Washington State
GLSEN Washington State is a chapter of the Gay, Lesbian & Straight Education Network (GLSEN), based in Seattle. As an education organization, it works all across the State of Washington to create safe schools for LGBT people. GLSEN brings together different areas of the community who actively care about ending homophobia in our schools, and it welcomes everyone to get involved (regardless of occupation or sexual orientation).

GLSEN Washington State strives to assure that each member of every school community is valued and respected, regardless of sexual orientation or gender identity/expression, because such an atmosphere engenders a positive sense of self.
The 37th annual Seattle Gay Pride Parade is Sunday, June 26 at 11am along 4th Avenue in Downtown Seattle originating at 4th & Union and finishing up at Seattle Center for PrideFest 2011.
(Visited 1 times, 1 visits today)