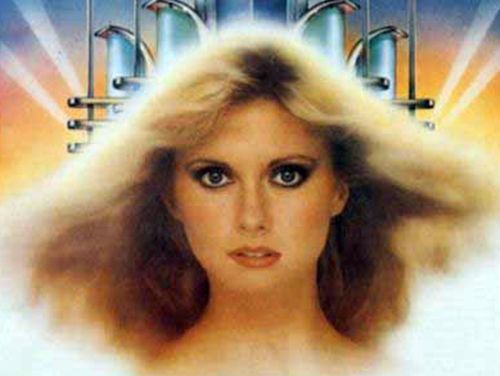 YUP! It's that time of year…(well, not so much today; thank you summertime grey, existential bleakness!) Three Dollar Bill Cinema is preparing for their annual FREE Summer Outdoor Cinema Series which debuts at sunset (roughly 8:30ish pm) Friday, July 29 and continues on successive Friday evenings in Cal Anderson Park on Capitol Hill. Presented by Sound Transit, this year's program is themed around those lovely cheesy musical-ish films of the 1980's and it's titled "Rock & Roll Fantasy" and it's kicking off with everyone's favorite Olivia Newton-John/Gene Kelly/Electric Light Orchestra starring cinema masterpiece, Xanadu.
The series continues with:
August 5

LABYRINTH — To rescue her baby brother Toby from the clutches of Jareth, the Goblin King (David Bowie), a daydreaming girl (Jennifer Connelly) must navigate her way through a maze loaded with Jim Henson's magical puppet creations and captivating musical moments. Will Toby really become a goblin? (1986, 101 min.)

August 12

THE APPLE — Set in an ultra-campy future world, this mind-blowing LOL rock opera follows a naive singing duo struggling to save themselves (and the world!) from the evil plans of Mr. Boogalow, a powerful music mogul.  (1980, 86 min.)

August 27

FOOTLOOSE — In an uptight town where rock music and dancing are against all of the rules, newcomer Kevin Bacon shakes things up by fighting for his right to get down and cut loose.  (1984, 107 min.)
Three Dollar Bill has a new, bigger inflatable screen this year, and the films will screen in the southeast corner of Cal Anderson Park. Some concessions will be sold and a few lawn chairs will be available for rent, but feel free to bring picnic lunches (no booze though) and your own chairs/blankets.
AND, for your pre-show entertainment, four dj crews will be getting the party started before each screening.
Xanadu: Shameless
Labrynth: Hard Times
The Apple: The Uniting Souls
Footloose: 12 Hour Notice
All the more reason to get there early…
And, now….XANADU!
(Visited 1 times, 1 visits today)