When the Italian and I first looked at the Manor in Columbia City we were thrilled with the house on the inside but adore the back yard. For the first time in my life I'm finally able to host outdoor events. I look forward to having people over to the back yard for garden parties. Totally reminds me of the Ricky Nelson Song "Garden Party".
So set up your music mix for summer. Get our picnic supplies ready.
The weather is finally cooperating now and we can look forward to a few months of good weather. So I thought I'd gather a few recipes that work for back yard socials.
Ranch-Steak Sandwiches
¾ cup Salad oil
½ cup catchup
¼ tsp, dry mustard
1 mashed clove garlic
¼ cup  fresh, frozen, or canned lemon juice
¾ tsp salt
¼ tsp pepper
6 cube steaks
6 slices Bermuda onion
6 hamburger buns split
butter or margarine
Early in day: Combine oil, ketchup, Worcestershire, dry mustard, garlic, lemon juice, salt, and pepper. Pour over steaks in shallow pan; cover. Refrigerate.
At serving time: Grill steaks and onion slices, turning and brushing with left-over sauce, till brown-about 2 min. per side. While steaks cook, place buns, with cut side down, on grill. Toast lightly; then butter. Places grilled steaks and onion slices between buns. Serve immediately
Makes 6 sandwiches
Lemon Pancakes
1 teaspoon grated lemon rind
2 ½ cups sifted flour
41/2 teaspoons double acting baking powder
1 tsp sugar
2 eggs beaten
2 cups milk
¼ cup melted shortening
1 tsp salt
Sift Flour, baking powder, sugar and salt into bowl. Combine eggs milk shortening. Stir in lemon rind. Add to dry ingredients. Beat only until flour is dampened (batter will be lumpy), Fry pancakes on an ungreased griddle. To fry each pancake, pour about ¼ cup of batter on hot griddle. When the edges become and some of the bubbles break, turn the pancake and cook until brown on the other side. The pancake batter may be prepared in advance and kept overnight. Tightly covered, in the refrigerator. Makes about 12 four inch pancakes.
The Blue Plate special stops off at Rebar on the 16th
I thought I would send you out a specail note about my next little project that I hope we can organize into a quarterly event. Please consider coming to see us.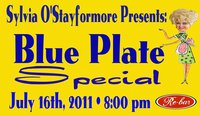 "What is The Blue Plate Special?"
Sylvia O' Stayformore is taking the spontaneous magic of Bacon Strip, adding a little vaudeville and burlesque and there you have it The Blue Plate Special.  It is a collaboration of talented performers putting together a magical evening of fun!
Sylvia and Tor will be entertaining the audience with new songs along with some of the audiences' favorites.  Throw in the sexy syncopation of James and Peter Darling and you have yourself a dash of classic vaudeville.  Miss Kitty Baby true classic burlesque and always engages the audience with he shimmies and pasties. If that is not enough we toss in Jinkx Monsoon a new Seattle whirlwind of talent and recent Cornish graduate with her amazing show stopping numbers.
The Blue Plate Special debuted at the Fox Theater in Centralia with rave reviews.  We have decided to bring you The Blue Plate Special as a quarterly review around Seattle.  So make sure you check out www.stayformore.com for current location and times.
Sylvia O'Stayformore presents Blue Plate Special
Saturday, July 16th, 2011
8:00 pm.
$15.00 at the door.
Rebar
1114 Howell Street Seattle, WA
(A cash only bar.)
Tags: Rebar, Sylvia & Tor, Sylvia O'Stayformore