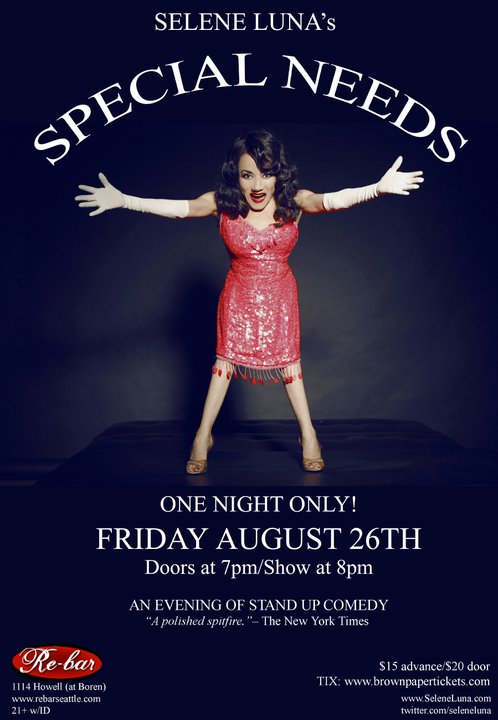 We have a HUGE heart on for the adorable 3′ 10″ dynamo/actress/comedienne Selene Luna. You've seen her as Margaret Cho's assistant on "The Cho Show"; as a unfortunate murder victim in "My Bloody Valentine" and in lots of amazingly funny videos with her pack of L.A. friends that include Jackie Beat, Nadya Ginsburg, and Mario Diaz where she's played everything from an erudite Mexican gardener to Madonna's daughter Lourdes. Now our favorite reincarnation of Lupe Velez, a Vegas Showgirl and Bette Midler (which makes no sense since Bette Midler isn't dead…) is winging her way to Seattle for a Friday night gig at Re-bar in her own one woman show, "Special Needs". Let's see what the press release has to say about Ms Luna:
The diminutive actress/writer/burlesque artist/stand-up comic/fashion model/activist has faced more obstacles than most as a woman born a little person who emigrated from Mexico to the U.S. with her family when she was just three years old.  To date, Luna has written and performed six original one-woman shows, most recent Born to Be Alive produced by the Lily Tomlin/Jane Wagner Cultural Arts Center.  Luna's original work explores the highs and lows of overcoming multiple levels of discrimination, weaving together a lifetime of adversity.  Luna shares her courage and strength of character in the midst of her adversity. Nevertheless, when she addresses the question of whether or not she would like to be "big," she honestly answers "no" because it's all she knows, so why change a good thing. It took her a lifetime to get where she is and gain an audience as well as her own acceptance.  Luna is currently starring in her own self-produced online series, "Selene's Hollywood Confidential," a quirky and often dark look at the ups and downs in the life of a struggling little person in Hollywood.  Selene Luna has carved a niche for herself and continues to break the stereotypes of little people in entertainment.
Well, that was a bit dry for my taste, especially since Selene Luna is funny as hell but she is an amazing performer and activist and she has PLENTY to say about not only rights for Little People, but she's not shy about fighting for the rights of all her many, many LGBTQ fans. Here she is in a PSA for Buck Angel's video series on Body Acceptance:
Preach it, girlfriend!
Check out the awesome Selene Luna (and, it's "Se-lay-nay" not "Se-leen") this Friday, August 26 at Re-bar. Doors at 7pm/Show at 8pm. 21+ and please remember that Re-bar is a CASH ONLY venue for both door and bar. Get advance tickets HERE at Brown Paper Tickets for $15 or $20 at door.
Check it OUT!
Tags: Re-bar, Selene Luna, Special Needs