Review: Inherit the Wind by Jerome Lawrence and Robert E. Lee. Produced by Strawberry Theatre Workshop. Directed by Greg Carter. With Reginald Andre Jackson, Todd Jefferson Moore, Nick Garrison, Alycia Delmore. Now through October 8 at the Erickson Theatre Off Broadway.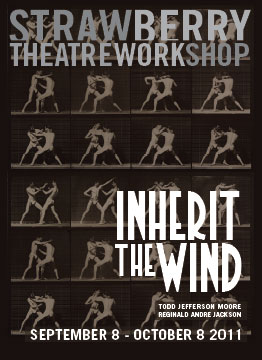 I've had a bit of a break from theater reviewing for the last few months. For one thing, summer is a lean time for theater, unless you like the outdoor kind, (I don't) and I was also a bit burnt out from reviewing…it's harder than it looks! You try finding new and refreshing ways to describe "crisp direction" (what does that mean?) or kind ways of saying, "This actor/actress is too old/too fat/too untalented for this role" or "Why would anyone want to stage this play?" The sitting in nice seats seeing quality theater part of theater criticism is very nice, but you have to sit in a lot of crappy, old folding chairs, and basements, and spaces not meant for theater, and you also have to weed your way through a lot of mediocrity. It's a hard knock life, kids.
That being said, I'm back in the saddle and I had a hard ride my first weekend back on the theater range, seeing three new productions in four days. (Not to brag, but I've had busier weekends…one weekend earlier this year I saw 5 plays in 3 days…but, I digress.) And, to use an even sadder metaphor, it was a lot like Goldilocks & The Three Bears. I had some overdone porridge, some that was underdeveloped and one that was JUST RIGHT!
See what I mean? Writing is hard.
The first show of the week was the very overdone Inherit the Wind produced by the Strawberry Theatre Workshop at the Erickson Theatre and directed by veteran director Greg Carter, a co-founder of the Shop who directed last season's excellent production of The Laramie Project.  Frankly, I was shocked at the announcement last spring that the Strawshop was going to produce this show. Inherit the Wind is classic 1950's Broadway drama; an "important play" about an important subject (the Scopes Monkey Trial with just a suggestion of the McCarthy Witchhunts) with roles for two veteran actors to face off in a classic acting "duel". It also has a very large number of speaking roles and usually has a cast of 16 or more. It seemed like an odd choice for this small, but well regarded company.
Since it was Strawshop, and had a proven director with an impressive cast, I had high hopes for Inherit the Wind, despite the fact I've never really cared for the material. It's a "well made" play with cardboard characters, hokey dialogue, and an ending straight out of an old melodrama. (In a nutshell: Someone dies. And, the Press is evil and heartless…seriously.) The actors playing the two principle roles, the aging lawyers sparring off on opposite sides of the evolution vs creationism argument are not very fictionalized stand-ins for the real lawyers, Clarence Darrow (Evolution and Crotchety-ness) and William Jennings Bryan (Creationism and Buffoonery). Yes, it's fun to watch them go at it, and they get some snappy jabs at each other, but it's all very contrived and phony and the play has not aged well in the 55 years since it opened on Broadway. Great works of art do age well which is why we go to and admire excellent stagings of Shakespeare, or Chekhov, or Brecht, or Tennessee Williams, (at least his good plays). But Jerome Lawrence and Robert E. Lee were never in the same pantheon with those playwrights, (despite my love and admiration for their Auntie Mame which is 90% taken either from the original novel by Patrick Dennis or the personality of its original star, Rosalind Russell). Their turgid courtroom drama seems dull and vapid and stale in a world of non-stop airings ofLaw & Order which wisely keeps its courtroom antics to about 25 minutes an episode.
It also doesn't help this production that the actor playing Darrow is at least 20 years younger than the actor playing Bryan, so the balance of the show is out of whack from the get go. It also doesn't help that Todd Jefferson Moore, playing the Bryan character is about 10% too far over the top, while his too young counterpart, Reginald Andre Jackson, playing the Darrow stand-in, is under playing his role by about the same amount which leaves the audience perplexed in the 20% gap between the two performances.
Meanwhile, the majority of the rest of the actors are equally miscast. The excellent actress Alycia Delmore has the unenviable task of playing two roles, both of which she is wrong for…she plays Mrs. William Jennings Bryan, a part she's 30 years too young to play and is then saddled with also playing a male role, the Judge in the case, as some sort of odd gender ambiguous justice of the peace complete with a Papa Bear voice. And, because there are a HUGE number of speaking roles in Inherit the Wind, and only 8 actors, many of whom cannot play more than one role due to the demands of the script, that means poor Evan Whitfield is stuck playing about a dozen different hayseed roles of various ages and imbecilities in a Tasmanian whirlwind of switching hats, kerchiefs, overalls, and cornpone accents which all blur into a Hee Haw-esque mish-mash of banality. Only Rob Burgess, emerges from this show with much dignity….Mr. Burgess only had to play three or four characters and had the extra advantage that one was British; it's easier to tell his characters apart. (Oh, and I should point out, there's nothing wrong with casting against type, if it's appropriate and warranted, but it just seems forced and clunky in this production, like a community theater production in a small town without a large enough talent pool. If you don't have the appropriate actors, or the budget for a large enough cast, then why do that particular play?)
As for Nick Garrison as the jaded cynical reporter, a stand-in for H.L. Mencken, I haven't the slightest idea why he would WANT to be in this play. It doesn't seem to be his kind of role and not his typical kind of play. (Meaning, interesting and entertaining and/or profound.) Mr. Garrison got all of the laughs and the attention of the audience, but like the performances of Ms Delmore and Mr. Whitfield, it's an example of an awkward performance in an awkward production by talented actors who deserve better material and casting. And, the sad thing is, the messages in Inherit the Wind are still important and these ideological discussions are still part of our daily lives…I just think it's time someone wrote a new play exploring them. Sometimes, old plays do need to be left out to pasture, or at least left in the hands of high school productions and tiny community theaters and out of the hands of professionals who should know better. I'm a big fan of Strawshop and they've had a bland season this year which is particularly disappointing after their excellent 2010 season of The Laramie Project and Breaking the Code. I want to see them back in form for 2012.
(Visited 1 times, 1 visits today)