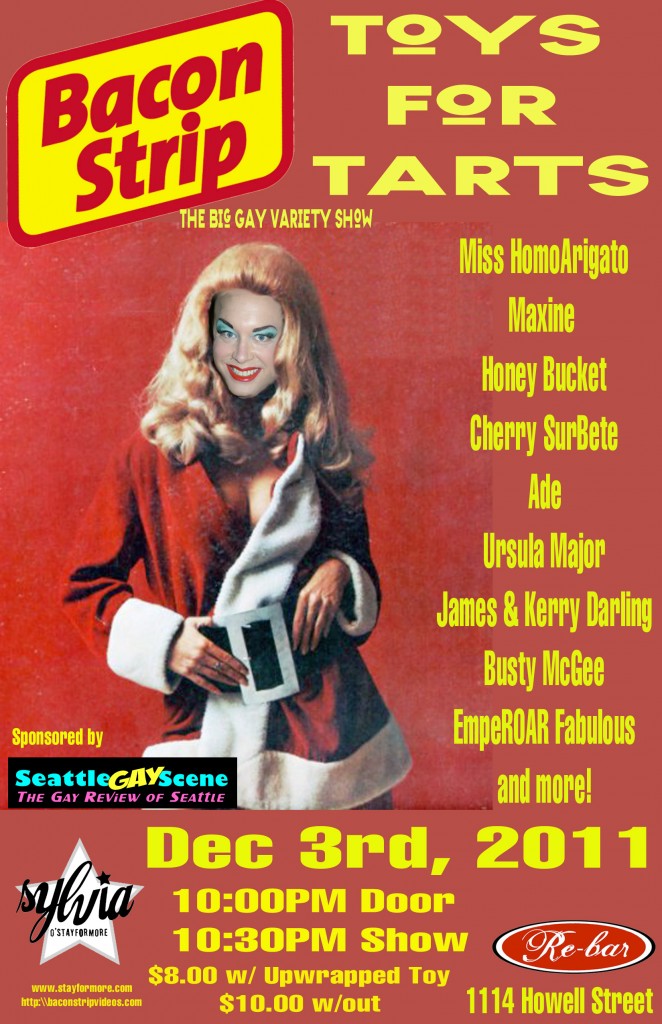 We've done a couple pieces on the holiday themed Bacon Strip for December, "Toys for Tots" but we forgot to put up the Bacon Strip ad so we totally suck as media sponsors. As we flagellate ourselves for our negligence, we offer this delightful reminder to head to Re-bar TONIGHT for a seasonal journey into the land of Sylvia O'Stayformore and her Island of Misfit Drag Queens/Boylesque performers…and, bring a TOY for the "Toys for Tots" campaign!
AND, in addition to her usual cast of derelicts, (Maxine, Honey, the Darlings, Cherry,) Mamma Tits/Busty McGee will make a special appearance.
Here's the poo:
Sylvia O'Stayformore's Infamous Bacon Strip Stages a Toys for Tarts Holiday Celebration

Sylvia O'Stayformore and the tawdry cast of Bacon Strip will be serving up holiday cheer next month with their Toys for Tarts show. Sylviaand the cast will bring you a night of seas…onal laughs in their always original and unique drag performance art interpretations. "This year, we'll be putting Christ back into Christmas," said Ms. O'Stayformore. "Just don't be expecting to see Him in the more traditional sense," she added with a twinkle in her eye.

So come on down to Rebar on Saturday, December 3rd, 2011. Doors open at 10:00 pm and the show begins promptly at 10:30 pm…or as soon as Sylvia can corral the drag queens. Bacon Strip will be collecting unwrapped toys for the Toys for Tots campaign. Admission is just $8 with a toy; $10 without a toy. Sylvia loves to help underprivileged children and she's been waiting all year to deliver your toys to those hunky Marines who coordinate the program. Help the cast of Bacon Strip spread a little holiday cheer by bringing a toy. Semper Fi and HoHoHo!!

Sylvia's Holiday Elves:

• Maxine Delacunt
• James & Kerry Darling
• Busty McGee
• Ursula Major
• Cherry Sur Bete
• Ade
• Honey Bucket

And more!

And of course, Bacon Strip would not be complete without our very own meaty twink serving up the main course – BACON! So come on down to Rebar.