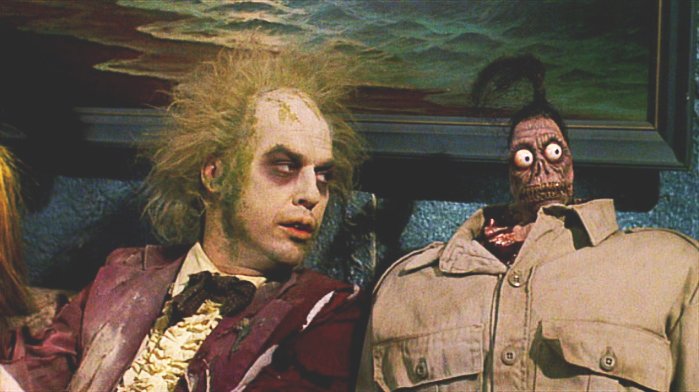 So much to do this weekend…Seattle Gay Scene recommends the following:
FRIDAY AUGUST 11
"BEETLEJUICE! BEETLEJUICE!! BEETLEJUICE!!!"
Yes, it's FINALLY time for Three Dollar Bill Cinema's annual summer in Cal Anderson Park outdoor movie series and the first film in this year's three film line-up is Tim Burton's delicious macabre comedy, BEETLEJUICE starring a still hunky Alec Baldwin and always adorable Geena Davis as a ghost couple trapped in their house who have to deal with the new owners and a pesky demon ghost named….Beetlejuice! Michael Keaton is the dirty eponymous "hero" and a then gothy teen Winona Ryder stars as the homeowner's moody daughter. It's fun for the entire family and it starts at dusk (8:30 ish) but get there early for a pre-show and to snag a good spot to see the film. Bring your own blankets/chairs/snacks (Three Dollar Bill will be selling some snacks, too!)
More poo:
Three Dollar Bill Cinema's full "Parental Advisory?" outdoor movie series:

AUG 11 – BEETLEJUICE http://bit.ly/2qOycFh
AUG 18 – BUT I'M A CHEERLEADER http://bit.ly/2qTvIAB
AUG 25 – JUNO http://bit.ly/2sCLhO4

All screenings begin at sunset (around 8:40 ᴘᴍ) at the SE corner of Cal Anderson Park. ARRIVE EARLY to get a good seat and join us for the pre-show events. Concessions will be open and DJ Tony Burns will start at 7 ᴘᴍ. Official announcements by host "Gregorjuice" Gregory Conn and a Winown-athalon will begin at 8 ᴘᴍ.

All films will have subtitles. This is a smoke-free event. Bring low-backed chairs or blankets for seating, please. Hot popcorn, cold drinks, candy, and other concessions for sale on site. Limited lawnchair rentals available. Proceeds benefit Three Dollar Bill Cinema's efforts throughout the year to provide voices and visibility for the LGBTQ community through film and video. More info at www.threedollarbillcinema.org
Your obvious Saturday, August 12th option for entertainment is:
SYLVIA O'STAYFORMORE'S TRAILER PARK BACON STRIP!!!
It's the once in a year chance to see the beloved drag variety show…
For Free (but bring cash to tip the performers!)
Outdoors
All Ages (please leave the little kids/babies at home)
More poo:
This month's theme is Trailer Park! We will be taking over the Georgetown Trailer Park Mall for the Georgetown Art Attack in August. The show is FREE but bring your single dollars bills so the gurls can all take the bus home! Also bring your own seating, ie lawn chairs and coolers welcome.
We have
Sylvia O'Stayformore and Honey Bucket– will be hostessing with
Kerry Niesen & James Darling, Miss Bacon Strip 2017 Strawberry Shartcake Timmy Roghaar – 2016 Empress of the Universe Miss DonnaTella Howe – The Queen of ranch sauce and corgis Abbey Roads, our own Chameleon Kara Sutra, own scary story Jared Mills, our very own rock star Tyler Condon, and the Queen of all things Trailer Park, Jackie Helll!
In beautiful downtown Georgetown!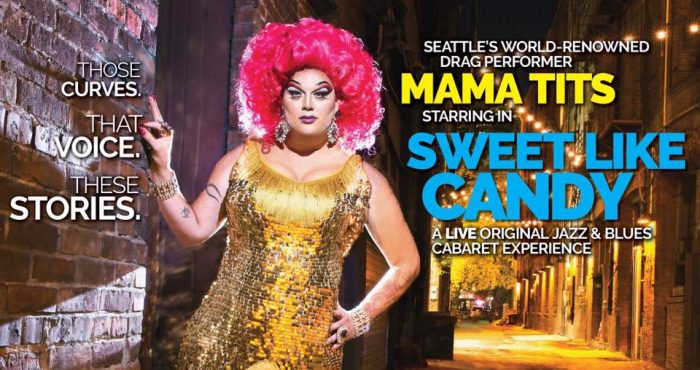 On Sunday, August 13th your ONLY option is obviously to go check out the Skyscraper Hostess, THE MAMA TITS do her fahncy one diva show at the lovely and fahncy venue, THE TRIPLE DOOR. It's "Mama Tits in "Sweet Like Candy"- A Live Jazz & Blues Cabaret Experience' and it's just what it says it is….a full show of just Mama singing jazzy blues LIVE as well as telling her colorfully ribald tales.
The show also features "
Masterful Piano Accompaniment provided by Seattles own Nathan Young
"!!
This week is OUTWEST BAR's 6th ANNIVERSARY, and we are celebrating August as "OutWest's Sixth Sexy Year in Seattle"! We'll have drink specials THURSDAY AUG 10th THRU SUNDAY AUG 13th with great entertainment from VJ ANDY on FRIDAY the 11th SPINNING GREAT VIDEOS; and DOLLY & THE DJ back SATURDAY the 12th with GREAT PERFORMANCES! And don't miss this month's SEXY UNDERWEAR NIGHT on FRIDAY AUGUST 25th! Come celebrate with us all month! We are proud these six years to have served and continue to serve for the next six years and beyond our local and larger LGBTQIA community OUTWEST! THANK YOU FRIENDS!
(Visited 7 times, 1 visits today)