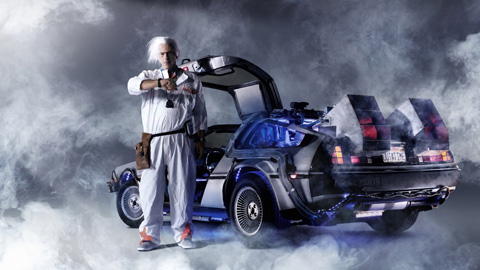 This is hella exciting! SIFF Cinema at the Uptown and Emerald City Comicon have teamed up for an awesome event…Actor Christopher Lloyd, aka "Doc" in the "Back to the Future" movies (and Reverend Jim in "Taxi" and the villain in "Who Framed Roger Rabbit" and about a thousand other great roles…) is coming to Seattle for this year's Comicon. The 'con and SIFF are teaming up for a very special event on March 31, 2012:
Christopher "Doc Brown" Lloyd in person!
with DeLorean procession provided by The Pacific Northwest DeLorean Club

Over a quarter of a century since it became a part of pop culture history, the beloved 1985 film Back To The Future returns to the big screen for one night only—with special guest Christopher Lloyd in person. Lloyd will arrive at the Uptown in a visual spectacular not to be missed, leading a procession of over two dozen DeLoreans, courtesy of the Pacific Northwest DeLorean Club. He will then take part in a special pre-film Q&A, moderated by John Carlson from radio station KOMO 1000.

This special one-show-only event will also feature a Back to the Fashion 50s/80s Costume Contest. One lucky winner with the best 50s or 80s garb (including any of the outfits featured in the film) will win prizes including passes to Emerald City Comicon and SIFF Cinema, as well as an autograph and photo with Lloyd.
And, just reminder that tickets are also on sale for the 10th Annual Emerald City Comicon which runs March 30 through April 1, 2012 with a buttload of awesome guests scheduled to attend.
You definitely don't want to miss out on the Chris Lloyd/Back to the Future event though…plus, all those iconic DeLoreans…
(Visited 1 times, 1 visits today)