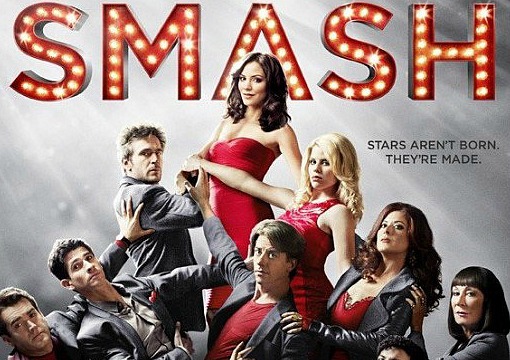 So last week on NBC's "Smash" Ivy (dropping Slivy, last made me like her again) got on drugs to save her voice which make her hallucinate (um, Ivy Karen is hallucinating/fanaticizing all the time just go with it) and is saved by her gay friends (original!), Eileen decided she preferred lower to upper at least in matters of East Side, Julia continued to flirt with disaster and Michael (whom she finally fucks, JEZEBEL!), Karen works a bar mitzvah (MAZEL TOV!) and is courted by a big time pop music producer, and finally rehearsals for the workshop get dramatic. 
That brings us to this week's episode, "The Workshop."  Wherein the gang gets ready to put on a workshop for agents (who might provide a star to replace Ivy) and money men that will give Eileen the money needed to move from workshop to actual Broadway flop, or hit (we hope hit).
But I am getting ahead of myself.  Before we see the workshop Karen skips rehearsal to record a demo for Mr. Raskin, hereafter BTMP.  Karen almost blows out the studio's audio with the power of her voice (yeah, right) but in the end she wins over the audio engineer with her soaring rendition of singing Colbie Calliat's (meh) "Brighter Than The Sun."  I have to say that even though I am tired of Karen's down home, innocent shtick, I do enjoy her vocals.
Flash forward to the main reason I have been so excited to watch this week's episode:  "Ladies and Gentlemen, Ms. BERNADETTE PETERS!"  Ms. Peters as Ivy's mother Leigh Conroy enters the studio where the workshop will occur and immediately starts pulling focus from Ivy.  She swoons over memories of her Broadway heyday, she charms the other cast members (and Julia) and gives in (really, twist her arm) to a request from one of the chorus gays to sing a song.   Now the song they chose for Leigh/Ms. Peters is perfect for the scene, I really shouldn't have to explain why but I will.  Ms. Peters was not only in "Gypsy" as a child but she also starred as Rose in the 2003 revival (yes, yes it was somewhat masturbatory but I bought the recording and if you are gay you probably did too).  It is also perfect because Leigh Conroy is somewhat of a twist on Rose, instead of pushing her daughter to success she tries (at least we think) to hold her back with cutting remarks.  Needless to say Leigh/Ms. Peters knocks this song out of the park.  The performance is stellar and the director did a good job of showing Ivy's discomfort as well as the discomfort of other members of the cast and crew watching Leigh serenade them and her daughter.  Well, done Ms. Peters and well done "Smash!"
We next get a montage of nerves; people awake all night before the workshop.  Eileen hires a scab to turn off the heat in their studio and flirts with the bartender and scab provider in her new Lower East Side regular.  Karen gives up a chance to meet the BTMP but skips it to be in the workshop (dumb in the real world, but true to Karen's awe schucks, let's do the right thing persona).  Oh, Ellis (sneaky bitch, but I love him) rats out Julia's affair with Michael to Eileen who thanks him and then threatens to destroy him if he tells anyone else (I love you Eileen!).
The workshop does not go off without a hitch.  The numbers are uneven, Karen falls down, the money men and agents are dying from heat exhaustion.  Ivy is distracted by her mother's presence, Derek's scolding and yadda yadda yadda.  I liked the workshop scene but knew it wouldn't be stunning for a couple reasons.  One, NBC basically told us this in their advertising leading up to this episode.  Two, the show can't be a hit yet, the season isn't over, DUH!
We end this week with a touching interaction between Ivy and her mother.  Ivy tells her off (you go IVY, is it the pills again?) for not supporting her and cutting her down.  Her mother tells her that it's hard for her to support her because she loves her so much and can't stand to see less talented people advance ahead of her but that's show biz kid.  Great scene both actresses nail it.  Oh, and Julia fires Michael because she is dickmatized and cries with her son, touching (not really).
For me, obviously, this episode was all about Bernadette Peters.  She looks amazing, she sounds amazing and I hope she comes back to "Smash," soon.  All the other players did well and I am looking forward to the drama promised in next week's episode.  Derek goes behind Ivy and the creative team's back and more relationship drama, SQUEE!!!!
Tags: Anjelica Huston, bernadette peters, Katherine McPhee, Megan Hilty, Smash