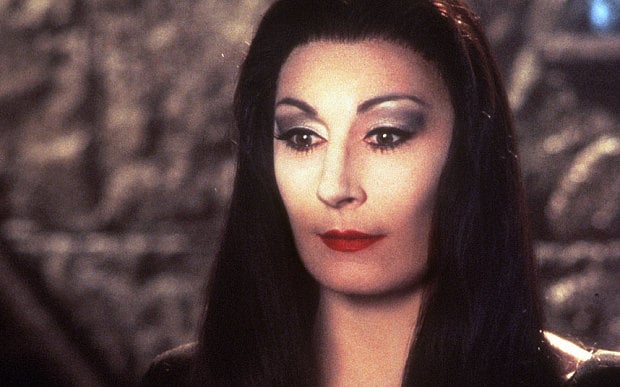 The Seattle International Film Festival will honor third generation Hollywood royalty when they honor ANJELICA HUSTON with a career achievement award at the world premiere screening of her latest film, TROUBLE, on Wednesday, June 7, 2017 at the SIFF Cinema Egyptian on Capitol Hill during the upcoming 43rd festival which opens May 18th. Tickets for the tribute and screening are available HERE.
SIFF will also screen two of Ms Huston's best loved films THE GRIFTERS and THE WITCHES over that week. Frankly, we're a tad disappointed we're not getting MORE Anjelica..bring on both Addams Family films! The Wes Anderson films she's appeared in!
MORE HUSTON!!!
More from the press release:
SEATTLE, WA — The Seattle International Film Festival (SIFF) will honor Anjelica Huston during this year's 43rd edition and include the world premiere of her newest film, Trouble, written and directed by Theresa Rebeck. Taking place on Wednesday, June 7th at the historic SIFF Cinema Egyptian, the event will begin with an on-stage interview with Huston, followed by a screening of her new film which she both stars in and executive produced.

Anjelica Huston is a powerhouse of a woman whose career has spanned over 50 years: through modeling, film, television, and on the page. Born into the family of renowned film director John Huston, and legendary grandfather Walter Huston, Anjelica was sure to make a splash in the industry with both her unique beauty and strong presence. Over the past 50 years, Huston's most notable roles have included Lilly Dillon in The Grifters, Maerose Prizzi in Prizzi's Honor (in which she won an Academy Award® for Best Actress in a Supporting Role), Miss Eva Ernst in The Witches, Morticia Addams in the cult classic The Addams Family, Etheline Tennenbaum in Wes Anderson's The Royal Tennenbaums, and most recently as Vicky on the Golden Globe winning comedy-drama Transparent.

In her new film Trouble, Anjelica Huston stars alongside Bill Pullman as a feuding brother and sister whose differences entangle the fate of an old friend, played by David Morse. Both written and directed by Theresa Rebeck (creator of Smash) and executive-produced by Huston, Trouble features strong performances that illuminate the honest realities of familial obligations and misunderstandings. Trouble also stars: Julia Stiles, Jim Parrack, Brian d'Arcy James, and Victor Williams.

Sarah Wilke, SIFF's Executive Director says, "It is an honor to welcome such a talented, exquisite, and tenacious actress to this year's festival. Anjelica Huston has graced the theater screen for many years and we at SIFF are elated to celebrate her success as an artist with our Career Achievement in Acting Award."

In addition to the Tribute event and screening of Trouble, the Seattle International Film Festival will present two films pivotal to Huston's career: The Grifters and The Witches. Preceding the Tribute event, The Grifters will screen on June 7th and The Witches will screen on June 10th. The complete Festival lineup will be announced on Wednesday, May 3. Box office sales for single tickets open online, by phone, and in person for the general public on Thursday, May 4, with special advance access to SIFF members on Wednesday, May 3. The 2017 Festival runs May 18 through June 11 at venues in Seattle and surrounding cities.

Trouble was produced by Theresa Rebeck, Rachel Dengiz, Julie Buck, and Jaclyn Bashoff. WME Entertainment will be selling domestic rights while GPM will be handling the film's international rights.

The 43rd annual Seattle International Film Festival Tribute is presented in part by: Sole Repair Shop, Ste Michelle Wine Estates, and Lagunitas Brewing Company.
(Visited 1 times, 1 visits today)