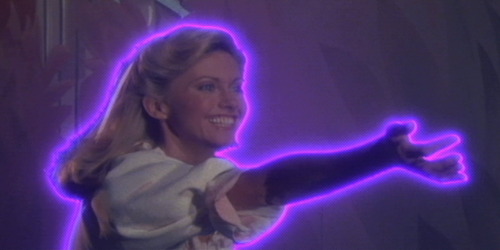 If you've already seen "Mamma Mia!" at The Paramount, there's additional musical cheese on stage in Seattle this weekend, starting tonight, (Thursday is the new Friday…or, so I hear…)
Ian Bell's Brown Derby Players are bringing everyone's favorite slice of cinematic musical cheese to Re-bar with their travesty of the Olivia Newton-John/ELO classic, "Xanadu" with the usual cavalcade of Brown Derby stars on tap to poke fun/pay homage to a glorious film from our youth. (But, let's be honest…the movie is really rather stupid and horrid. "Xanadu" is only beloved because of the SONGS, especially the title tune/production number at the end of the film…the rest is so very forgettable…)
Starring Andrew Tasakos as our favorite Aussie songbird, Olivia Newton-John with Freddy Molitch as Sonny, Josh Hartvigson as Gene Kelly, Scott Shoemaker as the E.L.O. Soundtrack, and as the Roller Muses: Kat Burns, Jana Hill, Laura McCabe, Matt Mulkerin, and Steve Newton! Directed by Ian Bell, Choreographed by Diana Cardiff, with Tech by Todd Hull!
"Xanadu" runs three nights only, no advance ticket sales, CASH only at the door/bar, 21 +, etc, etc, etc. Doors at 7pm/Show at 8pm. Brown Derby shows frequently sell out, so get there early!
Now, let's go watch my favorite cheer up video…the head bobs get me EVERY TIME!
Tags: Brown Derby Players, Re-bar, Xanadu