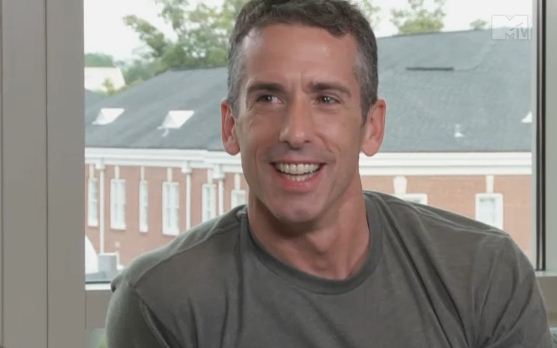 They announced this a couple weeks ago but Mr. Strangeways has been dealing with allergies and flu for TWO fucking weeks, so he's way behind schedule. Seattle's own Dan Savage got the green light for his own TV show on MTV last fall, and the result, "Savage U" finally has a premiere date, Tuesday, April 3 at 11pm. What's it all about?
Dan Savage and his producer travel around the country to give advice about sex, relationships and romance with college students.
Oh. So, it's basically Dan's dog and pony show he's trotted around to colleges for the last umpteen years but this time they brought cameras and an annoying producer named Lauren who likes her men to be 'scaped….her and Dan should get along just FINE! (Though, we can't wait for the Sweeps Stunt casting when Snooki tags along with Dan to pal around and offer her take on relationships…)
If that's not enough Savage Love for ya, then in a typically sneaky, synergistic move, Mr. Savage will pop up on MTV's faggy little brother network LOGO next week for a Very Special Guest Appearance as a celebrity judge on "RuPaul's Drag Race"…
Episode Nine: Frock the Vote!

The queens campaign and debate as they vie to become the 2012 Wig Party candidate. Sex-advice columnist Dan Savage and Absolut vodka spokesman Jeffrey Moran are the guest judges.
We are praying to the Drag Gods that Dan is somehow involved in a challenge involving the wearing of wigs and the drinking of Absolut Cocktails which would certainly channel back to Mr. Savage's days as a wig wearing, shade throwing drag queen on the Hill, but we fear that it might not come to fruition…he's a responsible advocate now with a national following.
Dammit.
(Visited 1 times, 1 visits today)