June 1, 2012

•
by
Les Sterling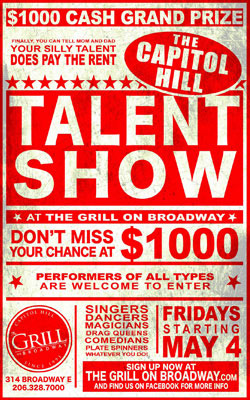 After weeks of preliminary rounds, tonight is the night when a winner will be named, and will walk away with $1,000 in cash and a trip to Vegas. Runners-up will receive delightful prize packages including gift cards to The Grill on Broadway, tickets to SIFF films and other delightful treats.
And! Tonight's finale guest judges include a couple of poofs from right here on SGS – yes, Mr. Strangeways and I will be there to check out the Finale goodness and crown a winner.
Be at the Grill on Broadway tonight at 8pm. Come early and have dinner, and stay for cocktails and the show!
(Visited 1 times, 1 visits today)
Related Posts
It reads like a Jason Bourne thriller…the long saga of
...