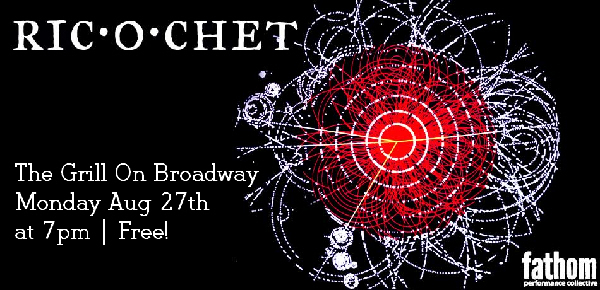 Devin Bannon and Fathom Performance Collective's monthly artist showcase RICOCHET is turning 10!
Well, it's the tenth installment and it's now at The Grill on Broadway and it's happening TONIGHT, Monday, August 27th starting at 7pm and they have a killer line-up of talent (including a certain Miss Monsoon but not in Monsoon mode, if you know what I mean…) and it helps benefit a terrific local arts group…This month, money raised will go towards the upcoming production of Caryl Churchill's play, "The Skriker" which debuts at the Erickson Theatre in October. Here's some more skinny on tonight's show:
Welcome back, boys and ghouls, and prepare yourselves for this delicious recital…

This month we're thrilled to announce our headliners this month, the devilish duo:

JERICK HOFFER and GARRETT VANCE

In addition, we're proud to feature a stellar lineup of local performers this month, including…

Intisaar Jubran
Jamaal Jackson
Grant Valdes
Sarah McKenzie-Duckworth
John Coons
… and YOURS TRULY!

This recital will be raising money for THE SKRIKER, an upcoming collaboration of dance and theatre produced by legendary choreographer Pat Graney in association with Janice Findlay Productions, based on the play by Caryl Churchill. It's a rarely produced play, due to the fact that much of it must be newly created, imagined & integrated (Dance & Music). These teams have brought together a company of superb Seattle artists and performers to create a work that is equal parts stunning theatre, evocative dance and jaw-dropping visual art. The play is populated by a shape-shifting faerie—The Skriker—-making dark mischief in modern-day London in pursuit of two teen runaways. Celtic Folklore characters & goblins (the dancers) reveal the fictional promises made by fairy tales to our culture's young. The play opens October 19th at the Erickson Theatre on Capitol Hill.

*EVERY DRINK AND RAFFLE TICKET YOU BUY GOES TO SUPPORT THE PERFORMING ARTS IN SEATTLE!*

HUGE PRIZES!
SUGGESTED DONATION $5.
+ ALLAGES +
So arty…so farty…so deliciously fun.
Tags: Devin Bannon, Garrett Vance, Jerick Hoffer, Ricochet Recital, The Grill on Broadway