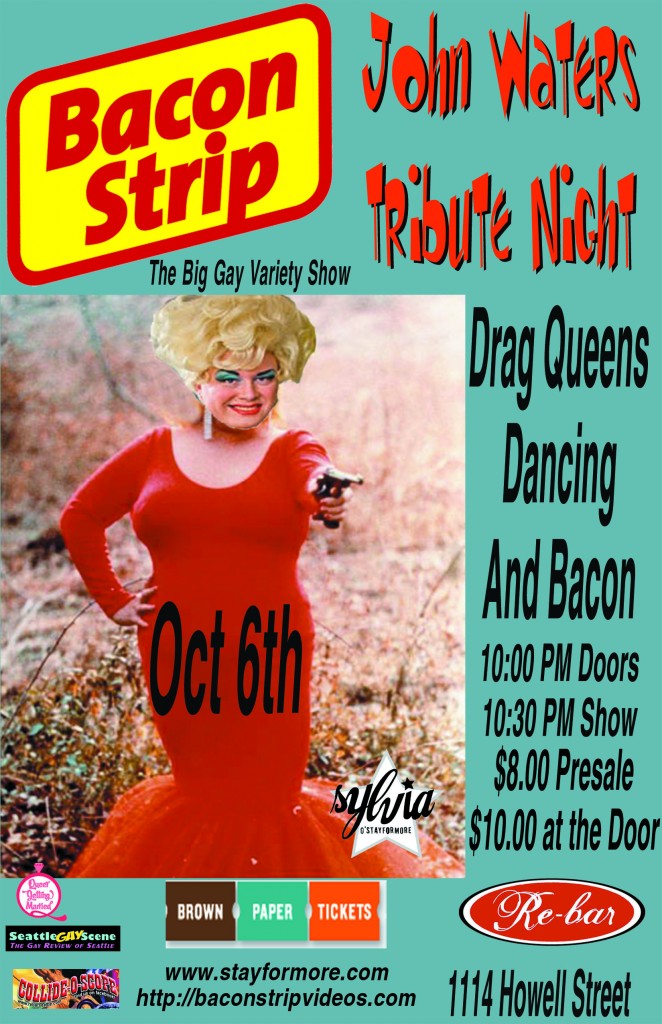 Freaky film fans of freaky fun filmmaker and gay icon John Waters will want to plan their Saturday night around attending this month's Bacon Strip at Re-bar hosted by Sylvia O'Stayformore and featuring her cast of misfit performers for a very special tribute to our favorite filmmaker. We're guessing there will be numerous tributes to Divine, Edie and the rest of the Waters' repertory house as well. Should be FILTHY!
This month's scheduled performers include: Blue Bear Wharton, Cherry Sur Bete, Kerry and James Darling, Keegan, Otter Pop, Sedusa Slitt, Honey Bucket, Maxine Delac-nt, Ceasar Hart, Ursula Major and some lovely video from the Collide-O-Scope crew.
Oh, yeah…and BACON!
Get advance tickets at Brown Paper for only $8 or $10 at door, cash only.
21+ with ID and no dogs allowed…or, their poo….
Tags: Bacon Strip, John Waters, Re-bar, Sylvia O'Stayformore