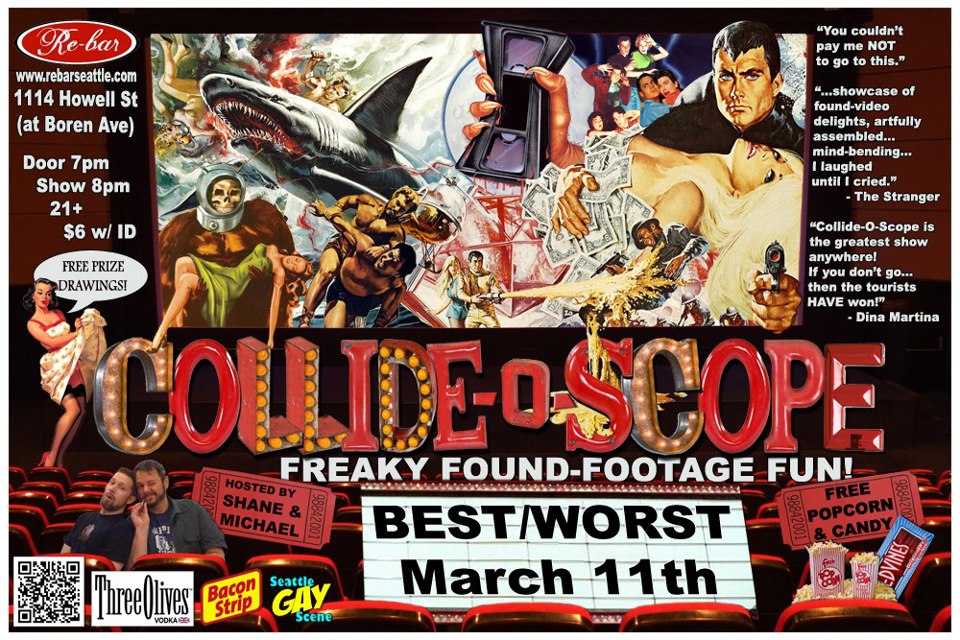 Collide-O-Scope is one of our favorite things in the world. The nutty, bizarro film clip show which happens twice a month at Re-bar (on Mondays) and occasionally at Central Cinema is the only place we know of where you can view brilliantly edited collages of favorite video clips from tv, film and the Intertubes plus soon to be favorite clips of things you might not even have heard of like the FABULOUS filmed in Seattle crime thriller "Scorchy" starring Miss Connie Stevens. Collide-O-Scope is a Seattle treat and it's getting bigger and better all the time. The next one is titled/themed "Best/Worst" and it's happening this coming Monday, March 11 at Re-bar with doors open at 7pm and the official show at 8pm. (They show videos during the pre-show as well, so come as early as you can!) And, if you've never gone to Collide-O-Scope but have gone to see Dina Martina at Re-bar, the Collide-O-Scope team are responsible for Dina's deliciously odd videos. (The Bryman College ads still make us pee our pants…)
Here's the info for "Best/Worst":
Okay, okay, calling it BEST/WORST is really just our way of saying, "Trust us. We have a bunch of stuff we want to watch with you guys but it doesn't fit neatly into one of those theme things." Seriously, there are some crazy nuggets of video and movie gold that that will SCORCH your ocular orbs with their luster! This will be a hoot, y'all! please come join us!

Free Redvines! Free Popcorn!

Prize Drawings, of course!

Free Bacon-Flavored Popcorn by Bacon Strip!
https://www.facebook.com/baconstripseattle?ref=ts&fref=ts
https://www.facebook.com/events/370558499718018/

$6 w/ID

Door at 7pm with pre-show video
Show starts at 8pm

Note: 21+ event. Re-bar is cash only.
We're also fans of the men behind the Scope, the adorable Michael Anderson and Shane Wahlund and we're not the only ones…David Schmader just gave them a glowing write-up in The Stranger's current A/P quarterly arts issue out now inside this week's edition and online. Check it out.
Tags: Collide-O-Scope, Michael Anderson, Re-bar, Shane Wahlund, The Stranger