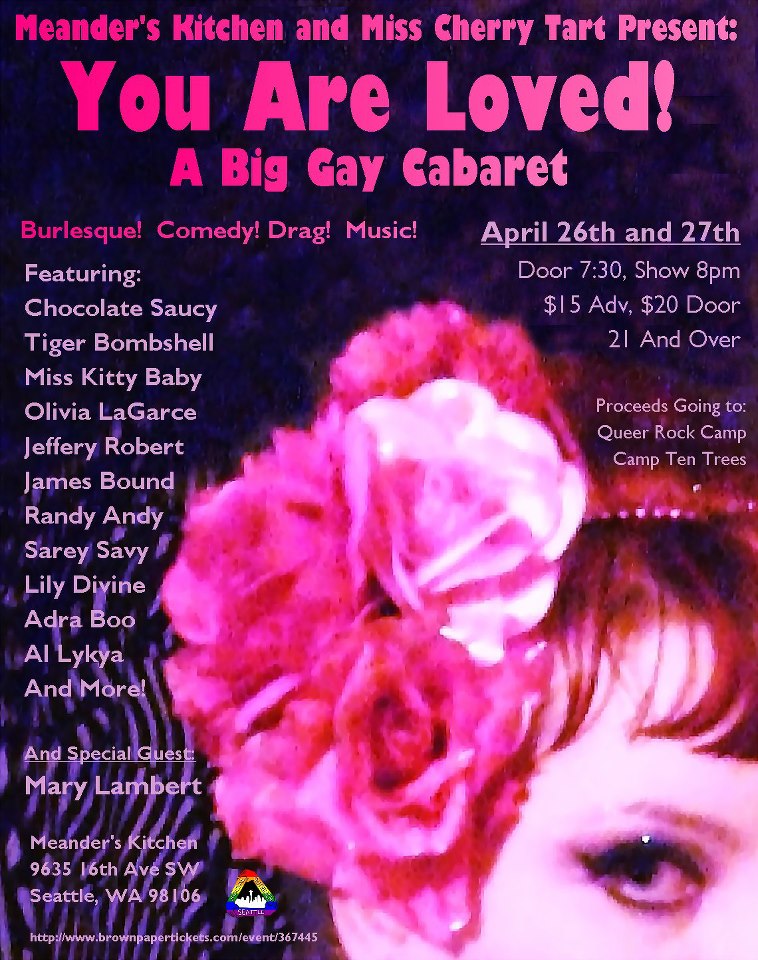 Head scratchers…"You Are Loved" is a self-titled "Big Gay Cabaret" and it's happening TONIGHT (Friday, April 26) and tomorrow (Saturday, April 27) and features hostess Miss Cherry Tart and a whole slew of burlesque girls & boys, and drag queens & kings, and assorted other delightful riff-raff with the line-up differing on the two nights, (plus the added benefit of singer Mary Lambert on Saturday), and best of all, it's a benefit for Camp Ten Trees and Queer Rock Camp, two delightful organizations that provide opportunities for queer and questioning youth, and the children of LGBTQ parents. WIN/WIN!
And, it's at Meander's Kitchen in White Center, at a former dive bar turned diner.
White Center…the po' neighborhood just south of Seattle and the home of tacky but delicious venues serving pho or tacos, as well the locale for all sorts of naughty stores of the porno/video arcade with glory holes variety.
Huh?
There's a story kids…a few weeks back, crazyass Michelle Shocked, the modestly successful singer/songwriter from the Nineties, went off the rails during a concert in San Francisco and started blurting out a whole lot of homophobic nonsense to an audience full of homos and queer loving straight hipsters. Naturally, this didn't play well and the moronic incident sealed the deal on the obliteration of Ms Shocked's tenuous performing career. Cut to Seattle's Meander's Kitchen which is now owned by a fun, politically radical lady who had booked Ms Shell Shocked into the venue as part of the singer's US tour. After the shit poured out of Michelle's mouth, a horrified Meander's (and the rest of the stops on Shocked's tour) cancelled and the idea came forth to host an event celebrating queer culture and to raise funds for the kids. The Facebook invite explains why this event happened:
Miss Cherry Tart and Miranda in the midst of putting together a burlesque and cabaret already… something of a sexy mashup of our queer DIY punk ideals and a fondness for the subculture of the 1920's. The answer seemed clear. We shifted just a touch, and rescheduled.

And this is a benefit? Not just your garden variety awesome, glitter studded celebration of life and love? Why is that?

Because it's really fucking important that queer kids are able to grow up without hating themselves or feeling the need to live in denial. So we want to use this fleeting wisp of press and publicity to help stack some dollar bills for organizations that spend every day taking care of the kids in our Family. Because that shit is necessary. Because You Are Loved!
Nifty!
You can buy tickets to the event over HERE. Sadly, due to the nature of the event, the kiddies can't go…
Meander's Kitchen is at 9635 16th Ave SW, Seattle, Washington 98106 in White Center. Pho/Taco lovers know how to get there, and lonely/horny gay men know the route to Glory Hole Land, but everyone else had better use Google Maps to find it.
GO! It would do you good to get off the Hill for a change.
Tags: Boylesque, Burlesque, Camp Ten Trees, Fundraisers, Meander's Kitchen, Queer Rock Camp, You Are Loved