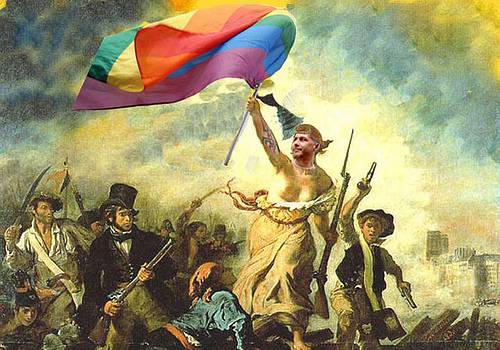 Popular local drag performer Robbie Turner was attacked at 2 am this morning walking home from a gig. Robbie, well aware of the rising problems with street crime, allegedly contacted the Uber car service but the driver refused to pick up a performer in drag. Robbie called an Uber but the ride was allegedly taken by someone else and Robbie walked home and was attacked. It it the second time this year that Robbie was the victim of street crime. (ADDED INFO: Put down your pitchforks! Uber is NOT to blame! See this post for details!)
Despite the frequent reports of such crimes, not much seems to have been done to fight such crime. There's a local campaign, but other than a march and an urge for people to "be careful" there's not much being done to actually DO something about the issue. The city, the Seattle Police Department and Seattle Central Community College seem to be ignoring the problem.
It's time to DO something. In an effort to actually get things in motion to correct these problems, I wrote this letter and sent it off to various LGBTQ Capitol Hill leaders, or, at least the ones I have email addresses for. You need to see it, too. We all need to DO something.
Enough is Enough

I'm reaching out to the leaders of LGBTQ Capitol Hill (at least the ones I can find email addresses for) because it's time we came up with a way to combat the issue of rising violent crime on Capitol Hill especially against at risk members of the population.

Robbie Turner was attacked at 2am this morning walking home from a gig. This is the second time Robbie has been attacked this year. Robbie is not a stupid person; he's well aware you shouldn't walk home alone in drag at 2am but allegedly Uber and cab drivers refused to pick up Robbie because he was in drag.

This is not acceptable. Obviously, the entire Hill cannot be policed 24/7 but it is our duty and responsibility to figure out a way to protect those most at risk. I think it's high time that the leaders of LGBTQ Capitol Hill got together to seek solutions. Yes, we need to have a dreaded meeting but we also need to have a productive meeting to come up with solutions. One solution I do propose right now is that we create a team of volunteer drivers/escorts to make sure that there are people available on the most vulnerable nights/times to make sure that both female and drag performers are able to get home safely at the end of the night. Ultimately, I think there needs to be a concentrated effort to bring back Pink Patrol, but that will require considerable funding, organization and effort. Coming up with people to make sure folks get home safely sounds like a great way to start.

We also need to get ALL the bars on the Hill to actively participate in any potential programs especially ones that feature performers at risk.

There are other campaigns out there attempting to alleviate this problem but so far, all they've done is talk about the problem and have a pointless march or two and make ugly posters. It's time WE did something to actually ADDRESS the problem.

I also think it's time that the city, police department and Seattle Central Community College start taking us seriously. There is a growing problem of violence on the Hill that the city/police and SCCC seem to not acknowledge. And, many business owners seem to be burying their heads in the sand. It's time to address and correct these problems.(And, we need to contact ALL those business owners.)

What can we all do to come up with solutions?

Let's talk. And, act.

Contact me.
Repeat. Let's talk. Make a plan. And, act on it.
Now.
Added info: Robbie Turner clarifies on Facebook that he was "slapped" and not "attacked" and gives details about the early morning incident.
Regardless if Robbie was slapped, attacked, or chopped into a thousand pieces, there are issues on Capitol Hill and they involve a  perceived lack of safety for anyone who lives or visits the neighborhood. It doesn't matter if the victims are gay, straight or anywhere in between or if the crime is purely financially motivated or a hate crime or a simple street dispute. What does matter, is that people are worried about it and their safety.
strangeways@seattlegayscene.com
(Visited 1 times, 1 visits today)