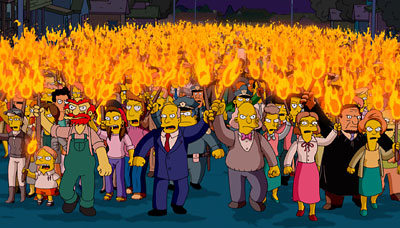 Mob Mentalities form quickly.
I just posted about the attack on local drag performer Robbie Turner at approximately 2 am Saturday morning and reported that allegedly Robbie had an issue with getting a ride home via Uber/taxi. Immediately, people began calling for drastic actions to be taken against Uber because allegedly the driver didn't pick up Robbie with the implication that it was because Robbie was in drag.
One. You need the facts before grabbing your pitchforks. The information I've received is that Robbie did call Uber and Uber came to pick up Robbie but SOMEONE ELSE SNAGGED THE UBER! In other words, the Uber pulls up to someone and the driver probably asks "Robbie?" and that person said "Yes!" and snagged a free ride home. (That person just earned some seriously shitty bad karma.) The driver did not refuse to pick up Robbie; the ride was "stolen" by another rider. Robbie discovered this this morning when he received his receipt for the Uber ride he did not take. Uber has since apologized and refunded the money.
Two. Stop calling for a boycott of Uber! They're not at fault!
Three. This issue isn't about Uber. This issue is about street violence on Capitol Hill and how to prevent it. The issue is about EVERY group on the Hill getting together to ADDRESS and FIX the problem. That means Gay City, and Lifelong, and The Sisters, and Three Dollar Bill, and the GSBA, and Seattle Counseling Service, and, Queer Youth Project, and the Court, and Gender Justice League, and the Men's/Women's Chorus and EVERY other non-profit and BUSINESS on the Hill, especially ones that operate late at night, to band together and create solutions both short and long term.
Four. It's about DEMANDING a response from the City of Seattle, including the Mayor and the City Council, and the people RUNNING for Mayor and City Council, AND the Seattle Police Department AND Seattle Central Community College which seems to have some security issues.
It's about solutions, not boycotts, marches or rallies. 
Leaders of Queer Seattle and Allies…when and where are we meeting?
(Visited 1 times, 1 visits today)