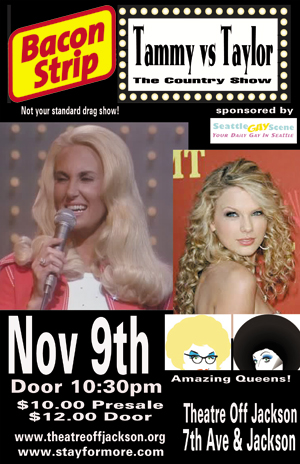 Yes, it's the 2nd Saturday of the month, ALREADY, which means it is time for Sylvia O'Stayformore's big, gay variety show BACON STRIP, now at its new home at Theatre Off Jackson down in the International District. This month's theme is a doozy…something a bit different out of their usual box of tricks. It's Country/Western Month as old skool country Tammy Wynette will face off against new skool pop/country Taylor Swift.  May the best drag hillbilly queen WIN!
Little birds have told us, (meaning Facebook) that in addition to regulars like co-host's Sylvia O'Stayformore and Honey Bucket, The Darling Boys, and others, that Miss Jackie Hell will also perform tonight AND the beloved c/w mother/daughter duo of THE SPUDDS are also rumored to be making a very special appearance!
The Spudds, aka comedy team Dos Fallopia, aka Lisa Koch and Peggy Platt, are gearing up for their very special holiday tradition, HAM FOR THE HOLIDAYS, their annual holiday variety show which is making a big move this year…HAM is leaving their traditional home at Theatre Off Jackson to take up residence in ACT's Falls Theatre from Dec 4 through the 22nd. This year's show is entitled:  "Ham for the Holidays: Close Encounters of the Pork Rind"…you can go grab tickets RIGHT NOW!!!!
(Visited 1 times, 1 visits today)