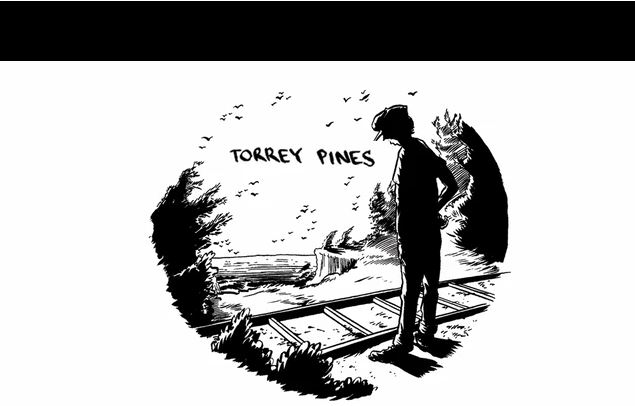 It's tick/tock time for filmmaker Clyde Petersen and his Kickstarter campaign to raise $29,999 for his animated feature film project TORREY PINES. Right now, Clyde has amazingly raised over $25,000 towards the goal, but of course with Kickstarter, it's all or nuthin'! So, if you have a few pennies, or a few thousand pennies to spare, shove them Clyde's way. Why? Because this project is AMAZING! Here's what it's about:
Torrey Pines is a feature film based on a true story by stop-motion animator Clyde Petersen. The film is a queer punk coming-of-age tale, taking place in Southern California in the late 80's and early 1990's. Raised by a schizophrenic single mother, Petersen's life story unfolds in a series of baffling and hallucinated events.  With a mother fueled by hallucinations of political conspiracy and family disfunction, Petersen is kidnapped at the age of 12 and taken on a cross-country adventure that will forever alter the family as they know it.

In those awkward teen years, from George Bush 1.0 to Bill Clinton to George Bush 2.0, it's a time of technological growth in American homes. Desktop computer and personal cell phone use is on the rise. Our culture transforms from a place where a person talking to themselves alone in public is labeled as "crazy," to a time where you are an outcast if you don't have a mobile phone and it is perfectly acceptable to rant and rave in public to an invisible person.

There is a Gulf War that never ends.  A baby trapped in a well. The rise of Star Trek: TNG, the future we had all hoped for. Linda Hamilton's television show Beauty and the Beast introduces us to a city we only dreamt existed under our own. The arrival of Melrose Place, introducing a new generation of middle schoolers to ideas of intimacy and a generation of nerds strengthening their thumbs on a Nintendo controller.

Join Petersen as he takes you back to a time when MTV changed history of music television and Garth Brooks was the best-selling artist in the entire world. Put on your swim trunks, grab your boogie board and come enjoy the view at Torrey Pines. Shit's about to get real.

Featuring an awesome soundtrack by
Your Heart Breaks

Corey J Brewer

The Beaconettes

and many many more.
Funds raised will help with the following costs: 
Animation: People and Supplies
Soundtracking: Musicians, Studio and Mixing
Audio effects / sound foley
Color Correction and Editing
UPDATE: CLYDE PETERSEN MADE THE GOAL!!! TORREY PINES IS A GO FOR PRODUCTION!
CAN'T WAIT TO SEE THIS FILM!
Tags: Clyde Petersen, Kickstarter, Queer Film, Torrey Pines