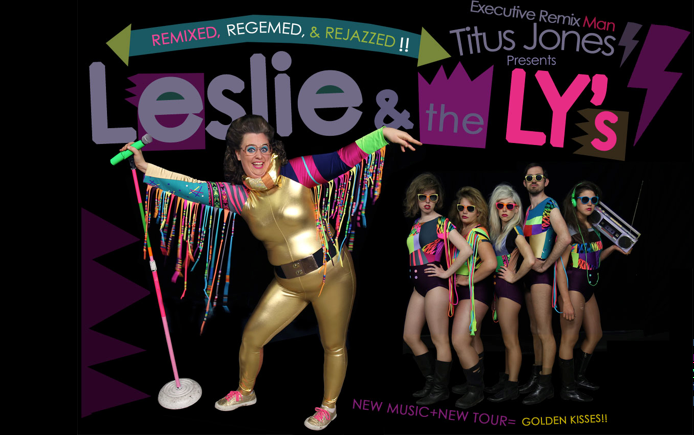 Hold on to your favorite Bedazzled sweater…Leslie & The Ly's have scheduled a stop in the Emerald City on their upcoming nationwide tour. And, it's an All-Ages show at The Vera Project happening on Friday, March 7th!!!
Here's the poo from the Facebook invite:
LESLIE & THE LY'S
Dean and the Delilahs
Boone County Comedy Troupe

LESLIE & THE LY'S
Leslie Hall first became an internet sensation when she uploaded pictures of her gem sweater collection online. After quickly attracting over 2 million hits, she was left with an $800 bill for exceeding bandwidth. In order to pay back her mother, Leslie did what any 200 lb plus Iowan girl would do, she became a lady rapper. Since then, Hall has toured relentlessly with Leslie and the LY's, self-released 5 full-length albums, and produced such viral video hits as Gold Pants, Zombie Killer, How We Go Out, Blame the Booty, and Tight Pants/Body Rolls. The band's ever-evolving live show features elaborate props, flashy costumes, and Las Vegas style production at Midwest prices. You will squeal with delight when Leslie tumbles and triumphs across the stage.
http://www.leslieandthelys.com/

Dean and the Delilahs:
Dean, Delilah, and Delilah will charm you with their unique brand of prairie-folk ballads and leave you longing for simpler times.
http://lesliehall.com/dean/home.html

Boone County Comedy Troupe:
Best known for their controversial wiggle straw gag, Boone County Comedy Troupe have been making laughers laugh ever since they filled that "comedians needed" want ad in the Pennysaver.
http://lesliehall.com/boonecountycomedytroop/main.html

Tickets: $13 all ages
http://www.etix.com/ticket/online/performanceSearch.jsp?performance_id=1771153
Friends in Portland, Oregon can check out Leslie & The Ly's at Blowpony on the next day, Saturday, March 8th! Go here for info!
Tags: All Ages, Leslie & The Lys, sgsapp, The Vera Project