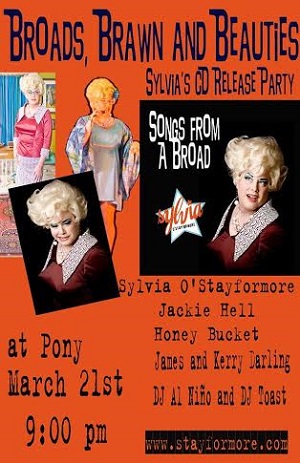 One of Seattle's treasures, the one and only Miss Sylvia O'Stayformore, the renowned hostess of her own self-created monthly "big gay variety show" BACON STRIP as well as a dedicated bingo host for the old folks AND a beloved announcer at Seattle Out & Proud's Pride Parade has a treat for you that she'll be exposing to the world this coming Friday, March 21 at Pony. It's the official release party called BROADS, BRAWN AND BEAUTIES for her new CD, SONGS FROM A BROAD featuring the divine songstress singing some of her favorite pop standards from the "golden years" of the mid-century era. (In other words, expect Burt Bacharach and Peggy Lee songs, not Ke$ha and Lil' Bow Wow….)
From the press release:
Come on over to Pony to celebrate the recording of songs in my new CD of old songs called "Songs from a Broad." Recorded from the old tracks from my Sylvia and Tor days and finished with the help of Butch Cavity Studios.

We will have limited edition, hand crafted, artisan CDs for sale for $10.00.
The evening will include performances from Sylvia O'Stayformore, Honey Bucket and Jackie Hell. James and Kerry Darling will be working the Pony pole. We will have the fantastic DJ talents of Al Niño and DJ Toast

Party Starts at 9:00 pm and goes until close!
Yes, it's a 21+ event! Leave the childrens at home! But, if you desire to expose your children to the peachy delights of Miss Sylvia, you can book the lady with the mostess to hostess a Tupperware Party in your own home! After years of thought, Sylvia has joined the cult of Irv Tupper and has quickly become a top saleslady for the beloved plastic products.
Book Sylvia for a private in-home Tupperware event at stayformore.com!
Go to Pony on Friday and buy her CD!
Tags: Broads Brawn & Beauties, CD Release Party, Pony, sgsapp, Sylvia O'Stayformore, Tupperware