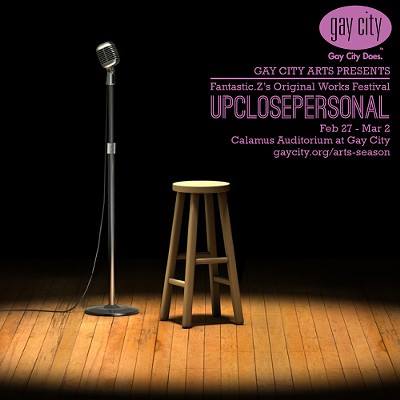 Gay City Arts and Fantastic Z, a new young queer theater company have teamed up this weekend to present a festival of new short plays by local theater artists called UP.CLOSE.PERSONAL. The Festival debuted on Thursday, February 27 and continues through Sunday, March 2. Tickets for the remaining shows (Sat. March 1 at 7:30 pm and Sun. March 2 at 2 pm and performed in the Calamus Auditorium at Gay City Health Project, 517 E. Pike Street) can be grabbed over at StrangerTickets.
The seven short plays include:
The Date by Greg Brisendine, director: Darren Johnson
The course of two gay men's relationship from lovers to ex's to friends.

the last ten minutes by Katie Kuntz, director: Cherilynn Brooks
The final moments of a married couple's life together.

Losing Lauren by Rebecca Ehlers, director: Darren Johnson
A high school girl, haunted by her own girlfriend, faces the challenge of coming out.

Rebecca's Dilemma with Her Meat by Seth Tankus, director: Kyle Baiz
A trans-kid fulfills her dream of becoming a Disney princess, but at what cost?

Experimenting by Clara Hayes, director: Cherilynn Brooks
Ever been in love with your best friend in high school?

All Around Them by Christopher Keslake, director: Cherilynn Brooks
A widower navigates accepting and raising a transgender child on his own.

Day Oh! by Adrienne MacIain, director: Kyle Baiz
Witness private investigator Charlize "Charlie" Papernick's Christmastime hijinx.
Mr. Strangeways is sad he didn't submit his Magnum Opus one act play written for a play writing class in college. It was a wacky farce that featured an anthropomorphic talking liver named Jodie. It was very funny albeit a blatant rip-off of Joe Orton in terms of dialogue style. It was also written about an hour before it was due to be read in class.
Sadly, you can't check out the talking liver play but you're strongly encouraged to check out the OTHER works on display at UP.CLOSE.PERSONAL. We're guessing they were written with more passion and expertise.
Tags: Calamus Auditorium, Fantastic Z, Gay City Arts, LGBTQ Theater, sgsapp