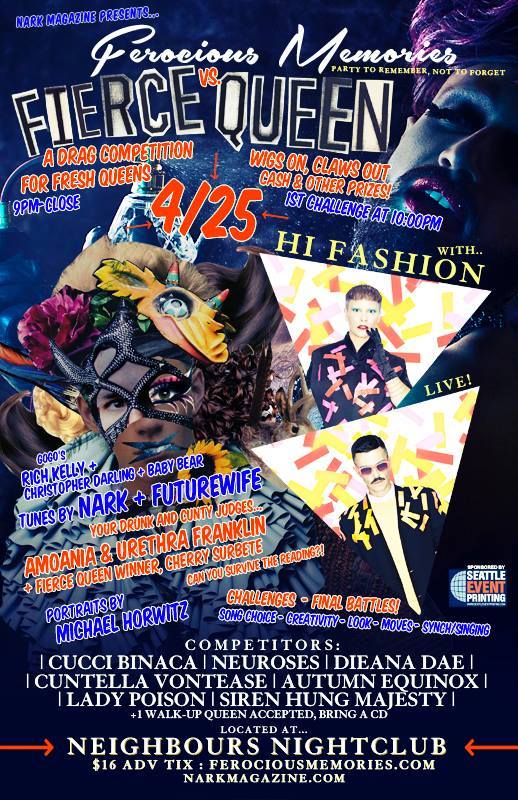 Snooping around the corridors of Nark Magazine Land, we have discovered the following titbits of information. (For those of you unkultured and unfettered by koolness, Nark Magazine is an online treasure trove of perversion and the official media outlet for DJ Nark and all the unwholesome events he produces in Seattle, Portland, SF, and LA LA Land…)
1) It's Nark's BIRFDAY Celebration this weekend and join him and Friends for Dirty Fun at Head Quarters, aka The Seattle Eagle on Saturday, April 12 starting at 9pm. Here are your instructions from Nark:
It's my birthday (me, as in Kevin, Nark, in case you didn't read above), I already cried cuz I wanted to, now make out with me cuz you want to.

Some bitches I love dearly will be turning their high heels inside out for me including Amo A Nia and Cun Tella VonTease … The cage is also open for WHOEVER wants to jump in and or perform, just ask the deejay.

Jimi Jaxon will be turning up the body heat along with Derek Pavone..

Christopher William Leigh Darling is gonna take his clothes off for us, but he was probably going to do that anyways.

Maxwell Brisben is gonna sell shots because I SAID SO.

And I'm gonna put Golden Girls on the TV cuz fuck you that's why.

♥ ♥ ♥ ♥ COME PLAY! ♥ ♥ ♥ ♥
((( (( ((( before, during, and AFTER MoWave, this will still be happenin' ))) ) )))

SATURDAY 4.12
at The Eagle
9pm-LATE
HUGME/SPANKME/LUVME
TitBit #2: Later in the month, there's a slightly BIGGER party happening over at NEIGHBOURS….it's time for a new installment of FEROCIOUS MEMORIES and FIERCE QUEEN, two HUGE dance//drag parties that are merging into one ferociously fierce blob of awesomeness and perversion. It features special guest musical group, HI FASHION performing live plus the second installment of the FIERCE QUEEN Pageant seeking the fiercest ladystuds in town.
Waaaaay more info and tickets over HERE!
It's gonna be a cray cray kinda night….
Now, for some June News…and, for a Pride Party in Portland, Oregon.  TitBit 3 is the news that popular "RuPaul's Drag Race" Season 6 contestant ADORE DELANO will headline a special Portland Pride edition of Nark Magazine's DICKSLAP at Holocene on Sunday, June 15, 2014. More info HERE!
FINALLY: TitBit Numero Quatro: Nark released this photo and the following news on his Facebook page:
and yes, New York herself is coming to Seattle, to VIP host Gender Blender at Neighbours 6/26 for Pride, save that date!
Mr. Strangeways had to have that translated since he had NO clue what the fuck it meant…
Apparently, "New York" is a lovely woman named Tiffany Pollard best known for being a reality show star on VH1's FLAVOR OF LOVE where she infamously self-proclaimed herself as "HBIC" aka "Head Bitch In Charge". It seems the lovely young woman will be coming to this June's GENDER BLENDER event at Neighbours as a Hostess. No other names have been released for the popular annual event formerly known as "Hey Tranny, It's Tranny". This year, the Blender will happen on THURSDAY, June 26, 2014.
Yes…you need to start "Marking Those Calendars".
Stuff is starting to happen.
(Visited 1 times, 1 visits today)