Last night was a bit lowkey when it came to event options, but there's ALL sorts of Crazy happening Saturday, May 3…including stuff we've already plugged like Anita Goodmann and the Puppet Burlesque Society's show over in Fremont at West of Lenin and the final night of Ian Bell's Brown Derby Players and their spoof of 80s vampire film THE LOST BOYS at Re-bar….which apparently has sold out every night so you best arrive EARLY to snag a seat! Both these shows have great casts…check them out, please!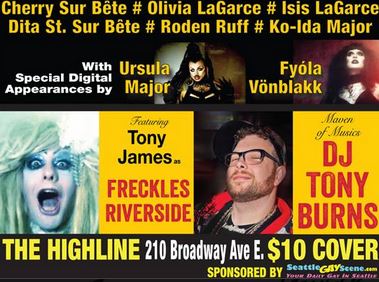 Another draggy/cabaret show with a great cast: HASHDRAG at Highline Bar, 210 Broadway Ave East above the Castle Superstore. This edition of the quarterly-ish queer cabaret features THE HAUS OF LADYDUDE and stars all of our beloved friends: Cherry Sur Bête, Olivia LaGarce, Isis LaGarce, Dita St Sur Bête, Ko-Ida Major and Derek Payne as Roden Ruff…PLUS, DJ Tony Burns…PLUS/PLUS the amazing Tony James performing as Freckles Riverside. (AND,  it should be known that Mr. James kindly stepped in for the previously announced Karin Parks who sadly has that croupy crud thing that wrecks havoc with a diva's voice. Get well soon, Karin!) The doors open at 9 pm for drinking, (it's a 21 + event) and the show is at 10:30 pm with a $10 cover. It should be an amazing show….the bee-atches have been REHEARSIN' all week!!!!
If you prefer to boogie, then head over to Le Cuff Complex for WILD KINGDOM and this month's special guest DJ, our "loves to be almost nude" buddy, DJ DISCO VINNIE. )Note: He actually PREFERS to be nude, but the Washington State Liquor Patrol Board frowns on djs displaying their goods and services…fucking prudes!) Vinnie's gift for roof raisin' and turning the beat AROUND should wake up The Cuff for a change. The party is rockin' from 10 pm to 3 am with a cheap $5 cover. Vinnie hopes all the bears, cubs, otters, foxes, and Manthers show up….you might want to bring flea powder and some leashes.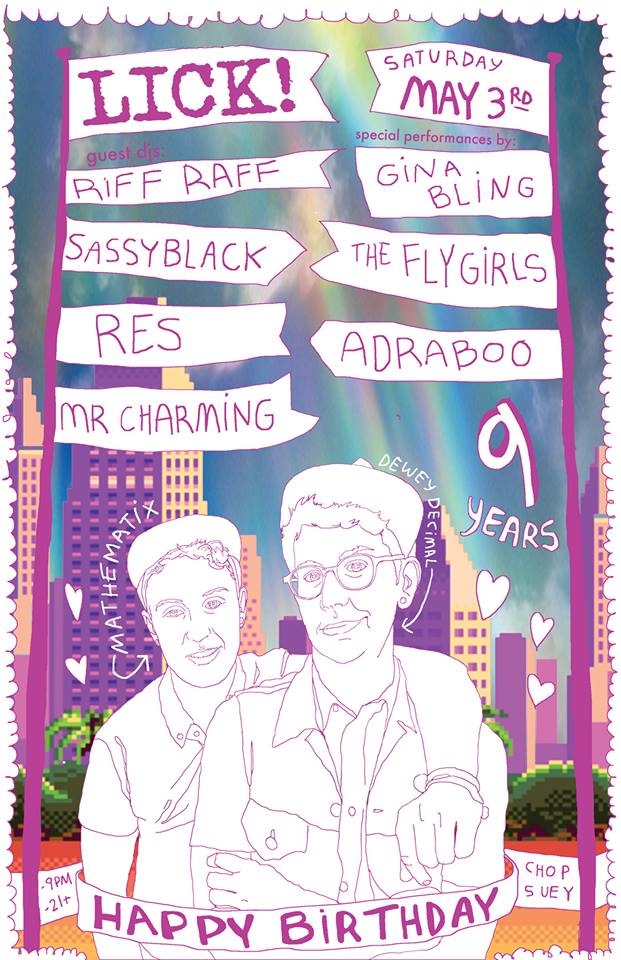 If The Cuff is not your speed, then head to Chop Suey for this month's LICK! as they celebrate their 9th Anniversary for the "big queer dance party" for the entire queer community. More on the fun and note the lack of capitalization was THEIR choice:
with resident djs:
dewey decimal & 
mathematix

plus our friends and radical guest djs:
riff raff 
sassy black
res 
mr charming

and our other friends with extra special performances:
the fly girls
gina bling (from team gina)
adraboo!

5 bucks, as always
doors at 9:30. 
21+ 

thank you all for your love, support, outstanding queer fun for the last 9 years! happy birthday to us! ♥
Delicious wishes on your Birfday, Lick! J'adore you!
(Visited 1 times, 1 visits today)