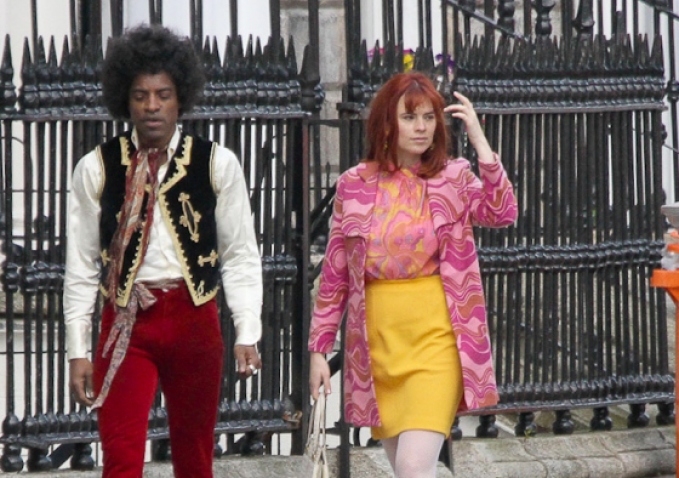 The Seattle International Film Festival is turning 40 this year and the 3 week long anniversary celebration kicks off Thursday, May 15, 2014 with the film, Jimi: All Is By My Side as the opening night gala at Seattle Center's McCaw Hall. The film focuses on a very specific time in rock icon and Seattle native, Jimi Hendrix's life, his early years living in London:
Featuring an insightful script from John Ridley (Academy Award®-winning screenwriter of 12 Years a Slave), Jimi: All Is By My Side looks at the early, momentous years in the life of the legendary guitarist.

It's 1966, and James Hendrix (Outkast's André Benjamin) is still an unknown backup guitarist in New York. Linda Keith (Imogen Poots, Filth)-girlfriend to the Rolling Stones' Keith Richards-happens to catch a set he's playing and, mesmerized by his skills, brings Hendrix into her inner circle.

Now in England, Hendrix hopes that London will be the gateway to success in America. Before long, however, he finds himself caught between Linda's protective grasp and the charms of a new admirer, Kathy Etchingham (Hayley Atwell, Captain America). With Kathy by his side, Jimi, as he is now known, navigates the city's music scene and begins making his mark in the world of rock 'n' roll.

Ridley, who also produced and directed this passion project, has crafted a daring, wholly original interpretation of an artist's origins, perfectly blending his story with archival footage of the era. It's the wildly charismatic Benjamin, though, that acts as the beating heart of Jimi: All Is By My Side, brilliantly distilling the essence of the man before anyone knew who he was.
Writer/director John Ridley and star Hayley Atwell are both scheduled to attend the gala. Tickets for the biggest yearly event for SIFF are now on Stand by, meaning you'll need to go to the Box Office at McCaw Hall tonight to see if there are any no shows so you can get in…. The Red Carpet starts at 5:30 pm and the screening itself at 7 pm with an after party to follow in the Exhibition Hall directly across from McCaw Hall.
Regular SIFF 40 screenings begin Friday, May 16, 2014.
Tags: Jimi: All Is By My Side, McCaw Hall, Opening Gala, sgsapp, SIFF, SIFF40