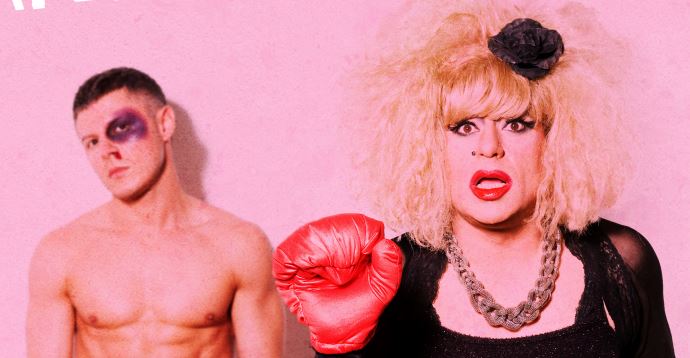 Heklina and her merry troupe of crazy mother fucking San Francisco drag queens make us very, very happy. The creatrix of the seminal San Francisco drag variety show, TRANNYSHACK, plus dozens of other drag related projects like her ongoing productions of The Golden Girls and Sex and the City, Heklina is a beloved figure in the Bay Area but equally revered up and down the West Coast, and even nationally for her in your face style of punk drag performance art and the inspiration she gives to so many other queer artists.
But, times are a'changin' (to quote Heklina's favorite show, a great line from Sophia Petrillo: "There's a hurricane a'comin'!!!!) and the use of the word "tranny" by the drag queen community has come under fire from members of the Trans* community, some of whom are highly offended by any use of a word they consider a horrific slur. When news reached Seattle that Heklina was bringing several members from her Trannyshack show up to Seattle for multiple events during Pride Weekend, the poo hit the fan as angry Trans* activists bombarded the Facebook invite with angry denunciations against the use of the word "Tranny"as part of the name of the event that 's been known as "Trannyshack" for 2o years. Producers of the two primary events, Seattle PrideFest and local drag queen Mama Tits and The Unicorn bar both began referring to the shows as "T-Shack" as a national debate began about the use of the word with both sides equally convinced they were in the "right".
During the height of the controversy, Heklina made a big announcement. To prevent further strife, she would begin to transition out of using the "Trannyshack" name and rebrand the event later this year/early 2015. Many hardcore fans were horrified but Heklina wanted to end the ugliness. Change was a'comin'.
Heklina hasn't indicated what the new name could be ("Heklina's Shack"?) but while we wait to find out, we can enjoy a big, juicy weekend of "T-Shack" performances kicking off with T-SHACK,  the Friday, June 27th show at The Unicorn/Narwhal, 1118 East Pike Street, with Heklina and her gals performing with Mama Tits and a bevy of local gals for the low, low cover of $5 with proceeds going to Gay City Arts and Gender Justice League. (And, media sponsored by Seattle Gay Scene!!!)
Heklina and her troupe will then take the Main Stage down at the PrideFest grounds at Seattle Center on Saturday, June 28th for the "Cyndi/Cher Welcome Party" which will feature performances from the troupe, PLUS Seattle performers, PLUS DJ sets from Tony Burns, L.A. Kendall, DJ Skiddle and Colby B (NYC). There's also a "Cher/Cyndi Lauper" Talent Show with the winner of that immediately heading over to Key Arena for VIP seating at that night's Cher/Cyndi Concert! This event runs from 3pm to 8pm, AND, it's FREE and all ages (with a Beer Garden for the 21+ crowd). It should be an afternoon of "Girls Just Having Fun" with "Gypsies, Thieves and…" You know the rest.
We were determined to chat with Our Lady Heklina before her Seattle visit…and we got to the nitty gritty right off the bat…
******************************************************
Seattle Gay Scene: Let's address the elephant in the room. "Trannygate" and Trannyshack…the controversy over the use of the word "tranny" by the drag community against the wishes of the Trans* community all came to a head in Seattle this spring but have you had problems in San Francisco as well?
Heklina: Yes, the Seattle thing kind of blew up, but I must say I was anticipating it. Dropping the word "Tranny" from the title of my club is something I've been mulling over, and talking about with friends privately, for the past year or so. Because of what Trannyshack is I've mostly gotten a pass in San Francisco, but occasionally people would stop me on the street, or email me about it. What was really the catalyst for me deciding that the name had to change was when I came across a post on Facebook. It was a performer at my club announcing his appearance at Trannyshack, but he was too embarrassed to use the name of the club itself, it was sort of "you all know where I'm talking about". This really drove home the fact that times have changed. When I started Trannyshack in the mid-90's the word "tranny" was another term we used for dressing up, like, "Are you getting into tranny tonight"? It felt cooler than calling it Dragshack! But, now it's obvious the word has taken on a LOT more baggage.
SGS: Do you have a timeline for a "re-branding"?
Heklina: It's still set for early 2015. Things are crazed for me right now, I am in the process of opening my own performance venue. So, I am –gulp-actually considering starting up a weekly drag show again! All of this is slated for the new year
SGS: Have you had support FROM members of the Trans* community?
Heklina: Absolutely. Soooo many members of the Trans community (high profile ones included) have told me that they have no problem with the word. It's gratifying to hear that, but I do not want to be involved in the debate. I just want to produce shows. Trannyshack has always been so much more than it's name. I'm not even the most important part of Trannyshack, I'm just the glue holding it together . It's always been about the incredibly diverse array of talented people who have graced it's stage. Many trans people have performed at Trannyshack over the years, and it would bother me to think that they feel less than comfortable being there because of what the name of the club is. If I am promoting gender inclusion I don't want anyone to feel excluded. Everyone is welcome as long as they know how to behave; this includes gay men, women, faux queens, drag kings, trans women or men, and even straight people! Just be cool.
SGS: You do so many events now…do you have a favorite?
Heklina: Haha I'm gonna be really lazy now and say my current favorite thing is just to be a drag queen for hire. When that happens I don't have to promote it or produce it, I just show up! It's very liberating, that's why I'm excited for Seattle!
SGS: Your TV show parody shows are hugely popular in San Francisco…which is your favorite? Golden Girls? Sex in the City?
Heklina: Golden Girls! I loooooooove the TV show, and watch it religiously. I worship all four of those actresses, especially Bea Arthur, so I have so much fun playing her. Sex and the City I find a bit annoying as a show, and Carrie Bradshaw is annoying. But, that makes it fun in a different way, I play SJP and get to make fun of her.
SGS: Are your SFO fans annoyed you're not gonna be there for SF Pride?
Heklina: Yes! I'm doing a big show here on Thursday the night before I leave for Seattle, but I've had to say no to a ton of bookings this year in SF. Why, oh why, does Seattle have to have their Pride on the same weekend as ours?
SGS: You're buying your own Club!!! Tell us about that….we know there's been some zoning issues.
Heklina: It's an old building South of Market. It used to be a gay bathhouse in the 70's and then turned into a nightclub later (it had a swimming pool inside which sadly has since been filled in). The zoning issues were ridiculous, but I think it's going to work out. The bigger problem is it's going to cost a fortune to fix it up!
SGS: What are your plans for your club? Will you do ALL your SF events there?
Heklina: I'm certainly going to try……
SGS: Who are you bringing up with you for Seattle Pride events? Tell me a little something about each performer.
Heklina: Holatta Tymes is an old-school genius performer from the legendary Finnochio's club in North Beach; she dos a spot-on Cher. And Ginger Snap is a great performer with her own show here called Snap-A-Licious. Cookie Dough hosts the Castro's longest running drag show The Monster Show, and she also is my downstairs neighbor which is handy whenever I need to borrow a cup of wig. Oh, and Turleen is flying in…she's pure evil.
SGS:  Cher or Cyndi….which one would you rather be stuck with on a deserted island?
Heklina: Gosh, that's a tough one. I think Cher would have better stories, but I'm gonna pick Cyndi because I'm sure she has better survival skills. She could probably kill an alligator with her bare hands if she had to!
*************************************************
This is where I'd normally put links to buy tickets to Heklina's events here in town this week but "T-Shack" at The Unicorn/Narwhal isn't doing pre-sales…just show up that night with your Five Dollar Bill in your clammy little hand…PLUS, booze and tip money!!! And, the PrideFest event "Cher/Cyndi Welcome Party" on Saturday at Seattle Center is FREE!!!
A treat for ALL of us Heklina's Shack fans!
Thanks to Mama Tits for setting up the interview.
(Visited 1 times, 1 visits today)