I'm not Commander Shepard, but this is my favorite interview on the internet.
Unless you're a video game geek connoisseur, you may not know the name Jennifer Hale. You probably know her work, however, as she's lent her voice to a plethora of the most popular video games, including Metal Gear Solid, Bioshock: Infinite: Diablo 3, and Mass Effect. Take a quick look at her filmography on her Wikipedia page, and you can easily see that it's no wonder she's a Guinness World Record holder for being the most prolific female video game voice actor.
Hale is making a special appearance in Seattle for Queer Geek!'s Pink Party Prime during PAX (Penny Arcade Expo) this upcoming Labor Day weekend, and it's exciting to have the opportunity to learn a little bit more about her as a result, as I've been a big fan of her work for years.
Those who've played the Mass Effect trilogy will immediately recognize her voice as the female Commander Shepard, or FemShep as the character has become lovingly known. The character is a prime example of BioWare providing players with a genuine choice in their character, to be able to take advantage of well written dialogue and an immersive plot with no regard to the gender of their role.
Hale's performance as Shepard has been critically lauded, and is often credited as the stronger of the two when compared to the more stoic/wooden performance by Mark Meers, the actor who voiced the male Shepard.
My experience with Mass Effect is similar, having played through the game with both versions of Shepard. Hale's performance was spot on, adding depth, gravitas, and, most importantly, personality to the dialogue. I'm not unhappy with Meer's performance, but I'd be much more likely to grab a beer with the female Commander Shepard.
"Shepard was an amazing opportunity on so many levels," confirms Hale. "To play a character truly not defined by gender and to carry that role across a trilogy with a team like that was a dream job."
"I don't take to the damsel in distress thing, at least not as a stereotype. Women are incredibly strong, as are men. Most humans are to survive this crazy experiment that we call life."
Hale's work is truly prolific, so, when asked if she has a favorite role, her answer is understandably vague.
"I've been asked which role is my favorite a few times and it's always hard to pick one. There are many. To quote the inimitable Rob Paulsen, my next one," she laughs.
What's surprising, and refreshing, about her body of work, though, is that so many of the characters she's voiced are strong, intelligent, capable women. Whereas, in the video game arena, female characters are more traditionally featured women as damsels in distress. Why does she think it's turned out that way for her.
"Lucky, I guess," she offers. "I don't take to the damsel in distress thing, at least not as a stereotype. Women are incredibly strong, as are men. Most humans are to survive this crazy experiment that we call life."
Hale's name is one a few that stand out among voice actors, along with others like Troy Baker (The Last of Us, Infamous: Second Son) and Mark Hamill (the Joker), both for the high quality and sheer volume of her work. What does she say is the secret to her success?
"I have no idea," admits Hale. "If you figure it out, let's bottle and sell it and buy an island! I feel very lucky to get to play in this medium, especially at this early stage where things are so elastic and evolving so quickly. It's a fantastic collaborative arena."
Voice acting has some unique challenges when compared to acting on the stage or screen, not the least of which is spending a lot of time recording the lines all alone in a recording studio. I'm often curious, then, about how one stays in character, stays a part of the scene, without the other actors present?
"Specifics are essential for me, she says. "I like to track where we are in the story line, where I am in my arc in the story, and then drill down to the specifics of what's going on as finely as possible."
A lot of the more recent video games have been using motion capture (aka: "Mocap") technology to incorporate both the physical as well as vocal performances of the actors. As games become more cinematic, and cut scenes become more realistic, it adds a level of nuance to the performance that animation alone has yet to reproduce. So what has been Hale's experience with this developing technology?
"I love Mocap," she exclaims, "it's one of my favorite ways to work! I've done several mocap games and look forward to doing more.
While many Mass Effect fans are rabidly watching the releases from BioWare about news of a possible new Mass Effect game, it doesn't seem likely at this point for Shepard to make a return in a sequel. What are some of the other projects coming up that we can look forward to hearing Hale's work in, then?
"Many I can't talk about" she laughs, "one or two I can. Broken Age, Lichdom: Battlemage, um… this one, that one, can't talk about that…"
One by product of celebrity in the science fiction, fantasy, and video game genres is the ability to interact with the legions of fans at conventions and expos around the country. Hales experiences with interacting with fans have been positive for her. It's something she's enjoyed doing.
"I've done several cons now," she says, "and meeting the fans is very cool. It's moving, and sometimes hilarious, to see what their experience of the work I've done is. What interests me the most, though, is what they're going to do. Many of them are the future and that's what's fascinating to watch."
Hale will be hosting the VIP Lounge at Pink Party Prime, where party guests and her fans will be able to meet her, talk with her, and even buy her a drink Garrus style. She will also be appearing on stage to address all of her fans, and acting as the final judge at the Pink Party Prime $1,000 Cosplay Contest. What tips does she have for potential contestants on how to win her over with their costume?
"Craftsmanship, baby," she says, winking, "and thinking outside the box."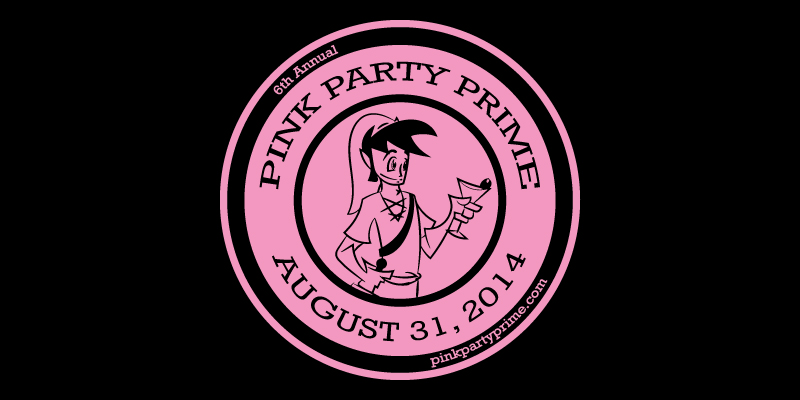 Pink Party Prime takes place on Sunday, 8/31 at Neighbours Nightclub on Capitol Hill. Doors are at 9pm. Tickets for Pink Party Prime start at $15, with VIP access at $30. Besides Hale, the party will feature music from DJ Tork, Futurewife, and will have Tyler Rush and Bolt working what their mama's gave them as cosplay gobos. Guest who come in costume will have a chance to enter the Official $1,000 Cosplay Contest, featuring cash as well as some fabulous prize packages for winners, that will be include celebrity guest judge Ellen McLain (Portal, Portal 2, Pacific Rim).
For your chance to meet Hale, get your tickets now to Pink Party Prime by visiting pinkpartyprime.com
Tags: Commander Shepard, Interviews, Jennifer Hale, Mass Effect, PAX, Pink Party Prime, Queer Geek, sgsapp, Voice Over Artists