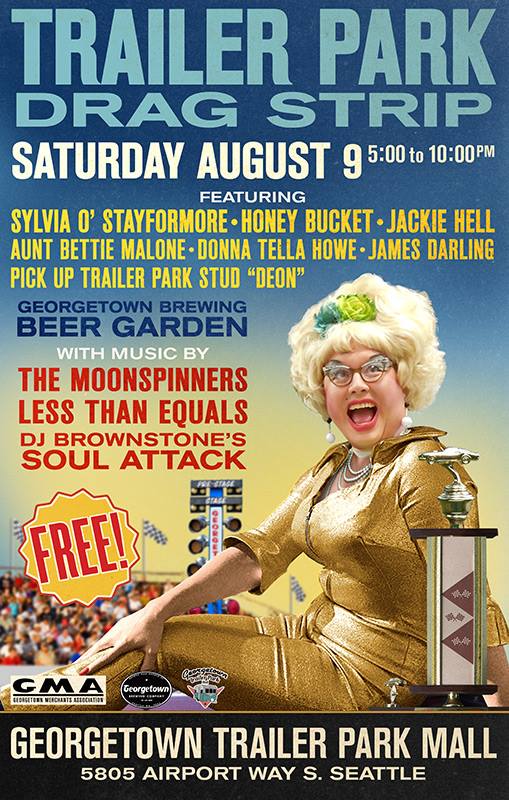 There should be only ONE thing on your agenda for Saturday, August 9th.
Get "trashed" with Sylvia O'Stayformore and her Pals at the Third Annual Georgetown Trailer Park Drag Strip Show happening at the Trailer Park Mall down in Georgetown, 5805 Airport Way S. (Note: it's a bit tricky to find…it's just OFF of Airport Way South….follow the garish lights,vulgar music and cheap floozies/carnies that will be heading that general direction…) The evening kicks off with LIVE musical entertainment at 6pm followed by Drag Queen antics at 8pm with your hostess Sylvia O'Stayformore and her line-up of fabulously talented cooch dancers, er, dragstars including the Queen of Cheap Hookahs, Miz Honey Bucket!
More poo:
DynaQueen Productions is proud to present 
Trailer Park Drag Strip
Sylvia OStayformore is bringing some of her friends down to invade Georgetown's Trailer Park Mall. These are fast "ladies" with some crazy stunts. Come finish off your Arttack evening with music fun and mayhem.

Moonspinners Moon Moonspinners will be playing early in the evening 6:00 pm

8:00pm they will clear the stage for a line up of drag talent not to missed!
Sylvia O'Stayformore
Honey Bucket
Jackie Hell
Aunt Betty Malone
DonnaTella Howe
House of Darling– James Darling
Pick Up Trailer Park Stud Deon

So join us at the Trailer Park Mall in Georgetown for evening of fun, music, and Drag!
Note: this is definitely an R-rated show and there is a beer garden area for the 21+ crowd but the show itself is open to all so it's a good opportunity for the 16+ crowd to see a vulgar, life enhancing/moral destroying drag show!!
AND, unlike an Al & Chuck Drag Cruise, there's no danger of having to man a lifeboat!!!
Tags: All Ages Drag Show, Carny Fun, Drag Show, Georgetown Trailer Park Mall, sgsapp, Sylvia O'Stayformore