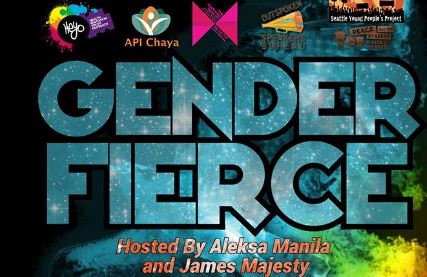 Well, actually it should state: "STUFF TO DO-ALL AGES EDITION" since "Gender*Fierce: Queer Youth Variety Show & Dance Party" is indeed an event that everyone regardless of age can attend. It's happening tonight, Monday, November 10 at The Vera Project at Seattle Center with Aleksa Manila and James Majesty in charge of the hosting for the FREE event…which means it doesn't cost anything to to get in, but it's also 100% alcohol free as well!
Here's ALL duh poo for tonight's event, including a link at the bottom with directions to get to The Vera Project…it's in that corner of Seattle Center up by the Northwest corner across from Key Arena….behind the building, it's Republican Street. If you're busing from the Hill, take the #8 and get off at the Key Arena stop. It's just a few steps away!
Come enjoy entertainment from a diverse line-up of queer youth performers as we celebrate the gender and sexuality spectrum! Stay after for an all ages dance party with local queer DJs as well as a queer youth resource fair with a range of LGBTQ youth-serving organizations from all around King County (and beyond!).

Bring your friends, your dancing shoes, and your full selves for a night of fun and community love at GENDER*FIERCE – at the VERA Project!

★ Hosted by ALEKSA MANILA & JAMES MAJESTY ★
★AMAZING youth performances including:
★ Angela Visalia
★ Whispurr
★ Shitlips
★ Queenie B. Jones
★ The Lady B
★ Emi Williams
★ Paralexsis
★ Jonah Deforest
★ …AND MORE!
★DJ Reverend Dollars & RC Meow
★Doors open at 7PM, performances begin at 730PM
★Dance Party starts at 930PM. Event goes until 12AM.
★Queer Youth Resource Fair!
★Tuesday = holiday = NO SCHOOL!
★ All ages & Alcohol Free!
★FREE, FREE, FREE!

★★★★★★★★★★★★★★★★★★★★★★★★★★★★★

Youth Organization Community Partners: The Northwest Network of Bi, Trans, Lesbian, and Gay Survivors of Abuse, OUTSpoken Speakers Bureau, PSKS – Peace for the Streets by Kids from the Streets, API Chaya, & Seattle Young Peoples Project,

Community Mobilization Partners: Gay City Health Project, Seattle Counseling Service, Entre Hermanos, Center for Multicultural Health, & Public Health – Seattle & King County

★★★★★★★★★★★★★★★★★★★★★★★★★★★★★

ACCESSIBILITY:
The main space is ADA accessible throughout. There are two gender neutral and wheelchair accessible bathrooms. Parking is available at Mercer Lot or on the Street. Transit options: Metro 1, 2, 8, 13, 15, 18, 20, 45 & monorail.

Map of VERA Project: http://theveraproject.org/contact/
We LOVE this project and we think they need to partner up with more adult performers on Capital Hill so the under 21 crowd can get full exposure to all of our amazing queer artists.
(Visited 1 times, 1 visits today)