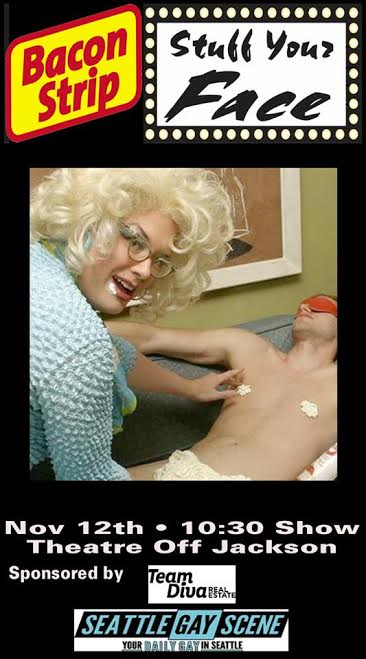 Are we still in an awful mood after this week's shitty election results? Tired of blaming each other? Sick of worrying about what's gonna happen?
You can always leave the house and go DO stuff to take your mind off our impending doom…
There's the drag silliness of Sylvia O'Stayformore's BACON STRIP, the 'big gay variety show' now in its 38th year and now at Theatre Off Jackson in the International District. It's the "Stuff Your Face" Thanksgiving Edition with your host Sylvia plus co-host, Honey Bucket  with the Darlings on hand as well as the current reigning Ms Bacon Strip Queen Dan'l (and let us say, it's refreshing to see the current Ms Bacon Strip actually take the time and effort to continue performing at/supporting the show…it was a tad annoying to see a couple divas crowned and then they seldom actually bothered to perform after they won…) Strawberry Shartcake, Abbey Roads and Vanity White will also be on hand along with FREE bacon and plenty of filthy shenanigans…oh, and tickets have already gone on sale for the SIX performances of the special Xmas Holiday Bacon Strip in December…SYLVIA'S SPECIAL GIFTS will open Friday, December 2nd and run Fri/Sat nights through December 17th. Grab tickets HERE!!
For the youth of our community, there's an all-ages dance/variety event at the Vera Project. It's GENDER*FIERCE presented by HEYO, a program of Lifelong. More poo:
Come celebrate the sexuality and gender spectrum for a night of fun and affirming queer community love. GENDER*FIERCE, is a queer and allied youth variety show, all ages dance party and Queer Youth Resource Fair (featuring 15+ youth serving organizations)- all in one!

GENDER*FIERCE is presented by HEYO (Health Education Youth Outreach) a program of Lifelong.

Event Date: November 12, 2016
Doors Open: 7:00PM
Variety Show: 7:30PM
Dance Party: 9:00PM
Queer Youth Resource Fair: 9:00PM
End: Midnight

Location: Vera Project- 305 Harrison Street- Seattle
Variety Show Host: Aleksa Manila
Dance Party: DJ Hubbell

GENDER*FIERCE is free to attend and is a drug and alcohol free event.

They don't have ages listed on here so we're assuming it's targeted for teens to early 20s. If you're old enough to GO to bars, then you probably should leave this event to those who CAN'T go to bars…Obviously, the 21 to 23 year old set probably has friends who are in the 19 to 21 range and they tend to be welcome. Coots out of that general age group should go play Bingo or Mah Jong or something.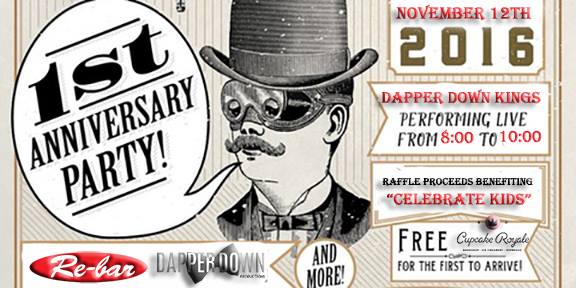 OR, if you're over 21 and a fan of drag king performances and the shows put on by Dapper Down Events, then head to Re-bar tonight for the Dapper Down Kings 1st Anniversary Party featuring performances, cupcakes and djs.
IT'S OUR 1ST ANNIVERSARY !!!!!!!!!!
Come celebrate with us! Saturday, November 12th, at Rebar we will have an early show featuring our dapper Seattle Drag Kings and Queens, sexy burlesque performances, androgyny and genderbending abound, and of course, CUPCAKES courtesy of Cupcake Royale Ballard!!!!!!!! BIRTHDAY PARTY AFTER FEATURING
DJ MIXX America
and
Reverend Dollars

We can't think of a better way to celebrate our birthday than to give back to our community, so we are throwing a fundraiser party. We will hold a raffle benefiting Celebrate Kids, an organization devoted to supporting children and youth of incarcerated parents. A portion of the event proceeds will also be donated to the organization.

doors at 8pm
show at 8:30 to 10pm
PARTY 10pm till ?
21+ $10
For many more options, go check out the SGS Calendar!
(Visited 1 times, 1 visits today)