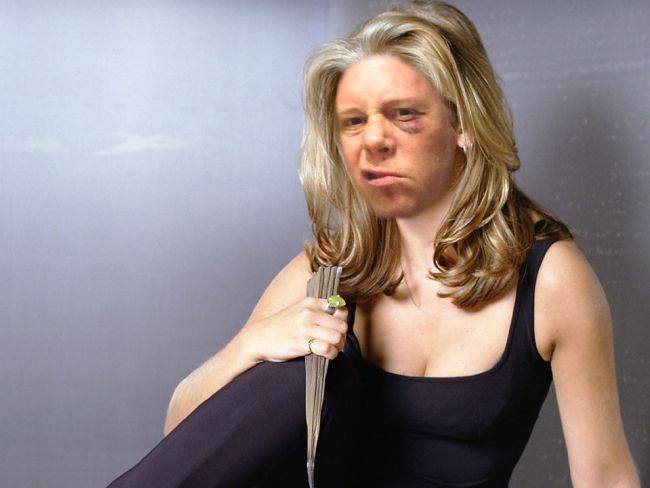 Masquerading as a writer is just one of many hats that Adrian Ryan likes to wear in order to hide his true identity: a slayer of drag queens. For centuries, he has fought to keep the population sustainable and productive, but now it is getting uncontrollable, he says. Seattle Gay Scene was able to sit down with him for an exclusive interview.
"It was around the same time I came out of the closet," Ryan said. "God himself literally floated down from the Heavens in the form of Sandra Bernhard, of all people, and he told me that for the rest of my life, all I would be doing is population control on drag queens."
The Stonewall Riots were a set back for him, but he eventually managed to suck the life out of Divine and temporarily sidetracked RuPaul's career. That is, until, she made a comeback with RuPaul's Drag Race. That was a major blunder for him. So much so that he completely forgot about a local threat.
"That definitely threw me for a loop. I was so, so focused on ruining Miss Ru that I let Mark Finley slip right through my fingers," Ryan sighed longingly out the window. "I just… I just don't know what to do. It's like trying to staple jello to a tree. How will I ever fucking stop her?!"
Many of you have come to know and love his arch nemesis, the queen of the hive; the immortal Mark Finley. Most refer to her by her code name "Mom," but for years she and Ryan have been involved in a bitter war that is ongoing to this day.
"I recruited Aleksa Manila from a tiny shanty in the Philippines and she's been a great help against Adrian. Mama Tits' success has also been a thorn in his side," Finley laughed as she puffed a drag from her cigarette. "But now, thanks to 'Drag Race' and Drew Paradisco's huge family, I don't even have to lift a finger. There's a new drag queen born every time someone utters the word realness."
Local property owners reportedly have seen queens raiding Sleep Country USA for mattresses. Arden Turnbull said he recently turned on his outdoor light only to witness DonnaTella Howe scurrying away from his trash bin with a half-tattered box between her hips. Though the exact size of the community is unknown, city officials estimate it has grown from roughly a 100 to more than 1,000.
Are you #TeamAdrian or #TeamFinley? Sound off below.
Tags: Adrian Ryan, Aleksa Manila, Donatella Howe, Drew Paradisco, Mama Tits, Mark Finley, TeamAdrian, TeamFinley