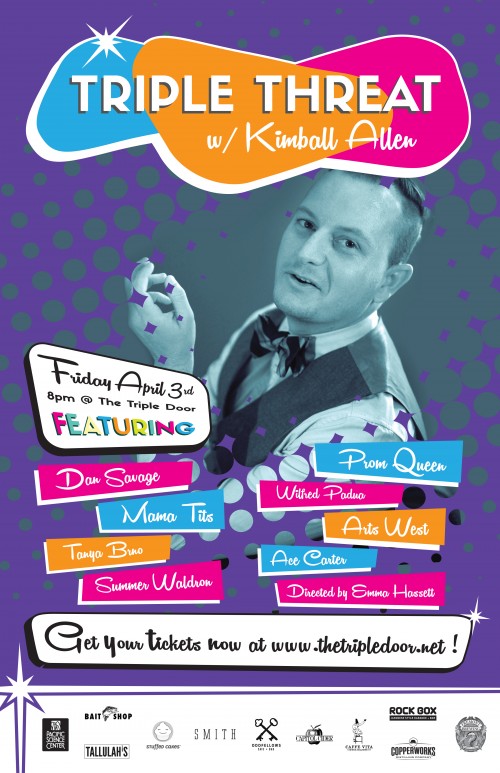 We're always excited to see a fresh, new show come to town that showcases some Seattle's finest talent.  Triple Threat, hosted  by playwright and entertainer Kimball Allen, premiers at the Triple Door on April 3rd, and promises to be a wild evening with the likes of Dan Savage, Mama Tits, glam band Prom Queen and many more all taking the stage in a variety show spectacular.
From the press release:
TRIPLE THREAT w/ Kimball Allen announces an impressive lineup of Pacific Northwest talent for its inaugural show at the Triple Door on Friday, April 3, 2015.
Directed by Emma Hassett, Seattle-based entertainer and host, Kimball Allen, assembles an innovative 90-minute, entertainment-packed variety talk show featuring author and pundit Dan Savage; musical guest Prom Queen; entertainer Mama Tits; comedian Wilfred Padua; aerial artist Tanya Brno, the ArtsWest cast of Angry Housewives, storyteller Summer Waldron and magician Ace Carter.
Author and pundit, Dan Savage, is the featured guest. In addition to being a New York Times bestselling author, Savage writes a weekly syndicated sex-advice column, Savage Love, and is host of the top-rated podcast, Savage Lovecast. He founded, along with his husband, Terry Miller, the It Gets Better Project; who's mission is to communicate to lesbian, gay, bisexual and transgender youth around the world that it gets better, and to create and inspire the changes needed to make it better for them.
Headlining musical guest, Prom Queen, is a local cinematic 60's rock band. Their second album, Midnight Veil, was released in 2014. City Arts Magazine describes vocalist, Celene Ramadan, as a "33-year-old vintage-pop teen-dream siren." Band members include guitarist, Ben Wildenhaus; guitarist Jason Goessl and drummer, Tom Meyers.
Seattle's Skyscraper Hostess, the One and Only Mama Tits is the creation of Brian Daniel Peters. You may recognize her from her amazing viral video from 2014 Seattle Pride, or as the former Host of LeFaux at Julia's on Broadway from 2010-2011. Mama is also the Producer and Star of "Mimosas with Mama", Seattle's #1 and Longest running weekly Drag Brunch, and works various private events around the Seattle area and across the country.
The historic Triple Door theatre combines world-class entertainment, complimented by the award-winning food of Wild Ginger. It redefines the live performance experience and radiates urban cool with plush half-moon booths, colorful cocktails and state of the art sound.
TRIPLE THREAT w/ Kimball Allen runs Friday April 3, 2015 at 8:00pm (doors open & dinner service begins at 6:30pm) at The Triple Door, 216 Union Street, Seattle, WA. For show info visit http://triplethreatvarietyshow.com. For tickets visit http://thetripledoor.net or call 206.838.4333.
Tags: ace carter, ArtsWest, Dan Savage, kimball allen, Mama Tits, prom queen, triple door, triple threat, Variety Show