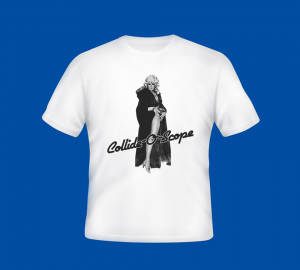 Are you already bored with RPDR Season 7?
(Yes!)
Then, you have a fun Monday option twice a month….COLLIDE-O-SCOPE, Shane & Michael's awesome twice a month video show featuring your favorite funny clips from film, tv and the intronet including lots and lots of clips of our beloved Connie Thompson, iconic flubbing news lady from Channel 4/KOMO! The 'Scope is back tonight, at Re-bar with the pre-show starting at 7pm and the show/show starting at 8pm.
Tonight's theme is: "Hey Ladies, 2!" which indicates an all lady line-up of video comedy! No dicks allowed!!!
Onscreen.
PLUS, there's an extra special added bonus: Free screen printing on your t-shirts, undies, table clothes, etc of noted and beloved Collide-O-Scope beloved images including……SCORCHY!!!!
More poo:

Special Pretty Lady and artist extraordinaire Kerstin Graudins will be donating her skills and time to do FREE screen-printing (several Collide-O-Scope designs from which to choose) on your T-shirt, jacket, pillow case, your cutest undies, or whatever! Of course you'd only bring clean items!

That's right, bring a plain T-shirt or some other printable garment and you can have it turned into your very own piece of Collide-O-Scope swag!

Kerstin will also have many sizes of really cool plain T's (some Meds/XL/2X/3X) you can buy from her for $8 if you would rather or forget to bring something.

FREE snacks and popcorn! Bacon-flavored popcorn by Sylvia O'Stayformore.

FREE Prize Drawings! Tons of surprises! Dina Martina tickets up for grabs!

Please join us! It will be a blast!

Only $7!

21+
Oh, and if you can't make it tonight, the NEXT Collide-O-Scope on March 23rd will also feature screen printing!!
Check out their trailer, too!!
(Visited 1 times, 1 visits today)