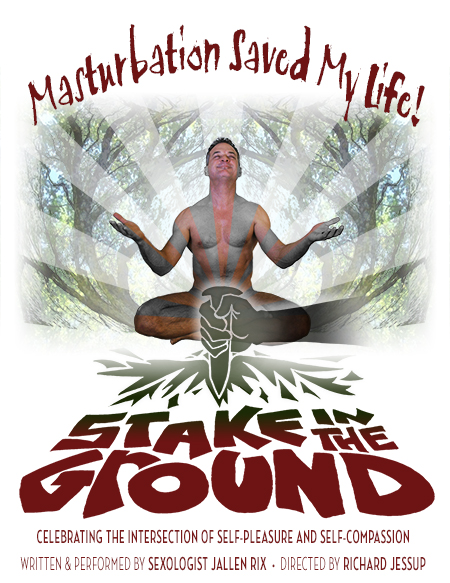 I just found this Facebook invite and I'm annoyed that no one alerted me about it before.
It sounds dirty and ya know I love dirty!
It's a solo show happening up at Greenwood's Pocket Theater (8312 Greenwood Avenue North) and it's called STAKING THE GROUND and it's about a gay sexologist who'll "celebrate the intersection of self-pleasuring and self-compassion…"
Uh, huh.
It stars Dr. Jallen Rix (that name makes me go "uh huh" as well but my last name is "Strangeways" so I shouldn't be so judgey) a sexologist from San Francisco and his show is "part memoir, part sex info and part Faerie ritual".
We're not sure if that means you're going to see full frontal peen but we wouldn't be surprised…it sounds a tad masturbatory, too, but we're guessing that's not happening in Greenwood.
People don't rub one out in Greenwood. The lovely Christian folks over at Taproot Theater would turn to salt!
We can't go, (though it sounds fascinating) but if you do go, let us know what it was like!
Give us a mini-review in the comments!
Here's more poo from the invite:
[Performances at the Pocket are $10 online and $14 at the door. Online sales close 4pm day of show.]

Saturday, Sept 19th @ 10pm
Sunday, Sept 20th @ 4pm
Tickets – http://bit.ly/StakeGround

Show Description – How does a shame-ridden, evangelical gay boy become a well-adjusted, adventurous sexologist? Dr. Jallen Rix brings his innovative queer positivity to the stage in his groundbreaking solo performance piece that is part memoir, part sex info, and part Faerie ritual. His whirl-wind style of storytelling has the audience diving into Palm Springs pool parties, sunning on nude beaches, hangin' out in San Francisco jack-off clubs and dancing around the maypole at Radical Faerie gatherings (No, he won't be masturbating on stage, but he might lose track of his clothes)! Buckle your seat belt, you're in store for quite the fun and entertaining ride!

Featuring –
Dr. Jallen Rix, writer, producer, performer
Richard Jessup, director

Producer bio –
DR. JALLEN RIX
Performer, author, and sex educator, Jallen Rix holds a Doctorate of Education in Sexology from IASHS in San Francisco, where he is a Professor. With a BA in music composition, he spent 2 decades on stages across the US and Europe performing his own brand of queer-positive music activism. He is a leading expert on the damaging effects of, and recovery from, ex-gay ministries and so-call ""reparative therapy."" His book, EX-GAY NO WAY, was nominated as best non-fiction books of 2010 by the Lambda Literary Foundation. He has appeared on talk shows, like Our America with Lisa Ling on the OWN Channel, and ABC's News Magazine 20/20. His film, LEWD & LASCIVIOUS premiered to sold out crowds at Frameline 2013, San Francisco's LGBTQ film festival, and won the AASECT Media Award for 2014.

RICHARD H JESSUP, Director/Choreographer/Performer
Richard H Jessup has directed (and/or choreographed) over 80 productions: musicals, plays and has developed half a dozen original cabaret-style evenings, and original theatre pieces. Richard was Artistic Director of Rogue Music Theatre in Grants Pass, OR for 9 seasons; he co-directed the Jessup/Jenkins Studios and 'Intimate Works' series in Seattle; and is the founder and co-producer of the AGAINST THE GRAIN: MEN IN DANCE Festival, currently in its 20th year of production in Seattle, WA.
(Visited 1 times, 1 visits today)